12 Popular Strains of Medical Cannabis in Florida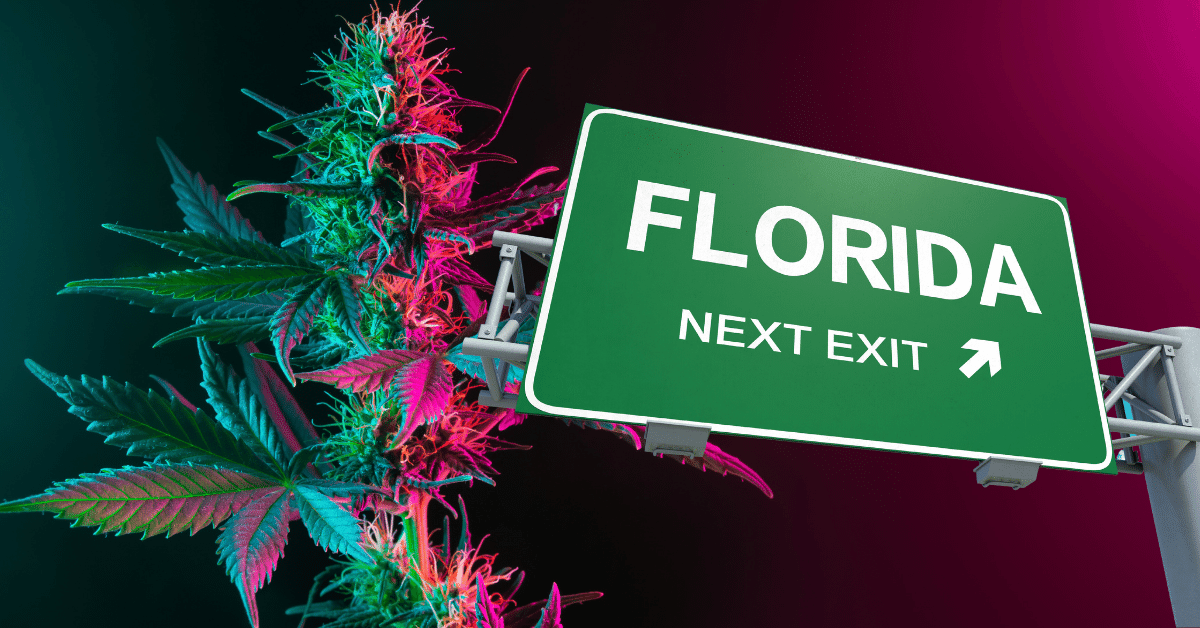 In the United States, Florida is a leader in medical cannabis. In fact, our home state is the largest medical-only cannabis market in the country. By July 2022, Florida dispensaries had sold over $1B in medical cannabis strains and products.
Top Selling Cannabis Strains in Florida
Patients with a Florida medical card are approved to purchase and possess cannabis legally for medicinal use. At DocMJ, we talk to thousands of patients every month who share that they have benefitted from using some of Florida's most popular strains.
Whether you are struggling with chronic pain, stress, depression, anxiety, or other debilitating symptoms, doctor-supervised cannabis may be an option for you. But finding the right strain(s) takes a little effort.
These are the twelve most popular strains in Florida. And when you learn more about each of them, you'll see why patients look for them at Florida cannabis dispensaries.

1. Bubble Gum
The Bubble Gum strain is a repeat winner of the Cannabis Cup. You may find this strain and products made from it in the dispensary under the alternative name "Bubba Gum." It is on the average end of potency for Florida cannabis flower, averaging 17% THC.
Patients who try the Bubble Gum cannabis strain report that it can help with the following:
Depression
Anxiety
Stress
Chronic pain
Nausea
Bubble Gum is an even split, 50% Sativa and 50% Indica. It has good terpene content, and the dominant terp is Caryophyllene. It also has Farnesene, Limonene, Linalool, and Humulene terpenes.
Farnesene is a rare terpene, but patients choose cannabis strains with this terpene for a reason. It may provide anti-inflammatory and anti-bacterial benefits. It may also help fight fungus and tooth decay. Some studies suggest Farnesene can help with joint pain and muscle spasms.
Bubble Gum originates from a cross of Indiana Bubble Gum and another unknown strain. People report feeling alert after taking it, so it is appropriate for daytime use. On the downside, this strain can cause dry eyes and cotton mouth, so ensure you hydrate regularly.

2. Blue Dream
With an average potency of 18% THC and a sweet berry taste, Blue Dream cannabis may go down in history as one of America's all-time favorites. The strain was created from Blueberry and Haze and was initially bred in California. Remember that any strain that has Haze lineage can create a cerebral "head high."
This Sativa dominant strain is elevating. Think "happy" and uplifted, with a high potential for bursts of creative thoughts. Blue Dream may also make you feel energetic, so if fatigue or lethargy are symptoms you are trying to address, it may be a good strain to try.
Patients who choose Blue Dream report that it may help with the following symptoms and conditions:
Anxiety
Depression
Stress
Fatigue
Nausea
Blue Dream has negligible CBD content (less than 1% on average). The dominant terpene in Blue Dream cannabis is Myrcene. There is also Pinene and Caryophyllene content in flower. Myrcene in larger concentrations can cause drowsiness, but in smaller quantities, it can provide pain relief.

3. Dog Walker OG
Who let the dogs out? This strain was an underdog for a long time before patients began to realize the combination of terpenes and high THC content (24% – 28% THC and 1% CBG) could help with various symptoms. It may become one of the most popular weed strains yet.
Dog Walker OG was bred from Albert Walker OG and Chemdawg 91. Where did it get the name? Well, it has a unique smell that may remind you of a wet dog. But don't let that deter you because this dog takes the cake when it comes to relaxation and stress relief.
Patients that use the hybrid Dog Walker OG strain share in reviews that it may help with:
Pain
Anxiety
Depression
appetite loss
The Dog Walker OG strain (on the downside) may cause side effects of dry mouth or a headache after use. At higher doses, Dog Walker OG may stimulate feelings of anxiousness. Physical effects can include relaxation and drowsiness, which makes it a good choice to explore if you have problems sleeping.
The dominant terpene in Dog Walker OG is limonene, and there are other terpenes like Myrcene and Caryophyllene present in the strain as well. Limonene gives the strain a pleasant lemon scent. But it doesn't help the flavor much, as Dog Walker OG tastes dank and skunky.

4. Durban Poison
The South African city of Durban is where the Durban Poison strain was born. It is one of the pure Sativa strains, and as such, can provide energetic and uplifting psychoactive effects. Many also prefer it because it has an irresistible sweet scent (thanks to ample resin).
The strain has 19% average THC content and 1% CBG. People who use Durban Poison comment that it can make them feel:
Because of the psychoactive effects, Durban Poison is popular with patients with depression or moderate to severe anxiety and ADHD. The dominant terpene in Durban Poison is Terpinolene, with Myrcene and Ocimene content. Both Terpinolene and Ocimene are less common terpenes. Teripinolene can contribute to feelings of energy and calm happiness. Ocimene is a stimulating, high-energy terpene.
Like almost any pure Sativa, you want to monitor how much you take. In larger doses, Durban Poison can contribute to feelings of paranoia and anxiety. Consuming the strain may also result in dryness of the mouth.

5. Gorilla Grapes
Who is the "King of the Apes" regarding medical cannabis? That would be Gorilla Grapes. It is known as one of the more popular medical marijuana strains for many reasons. Starting with an average of 17% THC content.
Patients struggling with symptoms of anxiety, depression, or high levels of stress may find Gorilla Grapes works well for them. Some of the common psychoactive effects are feelings of happiness, relaxation, and focus.
Gorilla Grapes was bred from Original Glue and Vino OG strains. It has a sweet fruity flavor with undertones of Diesel. It is aptly named because the buds are deep purple with splashes of red. The Gorilla Grapes flower is usually covered with ample white trichomes.
The dominant terpene in Gorilla Grapes is Myrcene, so the bud has an earthy scent. The strain also has Pinene and Caryophyllene.

6. OG Kush
You may find OG Kush under another name at the dispensary, called Premium OG Kush. This strain was developed in Northern California from three strains; Lemon Thai, Hindu Kush (Amsterdam), and Chemdawg.
The scent of OG Kush is kind of complicated and a combination of diesel fuel, skunk, and spice. Some people describe it as a combination of lemon, pine, and fuel in terms of the smell of the flower when incinerated. Many strains, including GSC, Tahoe OG, Ghost OG, and Headband, were created from OG Kush phenotypes.
The OG Kush strain averages 18% THC content. Some patients describe the psychoactive effects as euphoric, sometimes sleepy, and often hungry. So get a snack ready because OG Kush is likely to cause "the munchies."
Common uses for this medical cannabis strain are to relieve stress, anxiety, and pain. The terpene content includes Limonene, Myrcene, and Caryophyllene.

7. Pineapple Express
The strain was made famous by a 2008 Seth Rogen movie by the same name. But there are many reasons why Pineapple Express is one of Rogen's favorite strains. It was developed from two legendary cannabis strains, Trainwreck and Hawaiian.
Pineapple Express is a Sativa dominant strain with an average of 18% THC and 1% CBG content. Some of the common psychoactive effects you may experience after consuming products derived from it include:
Long-lasting energy
Alertness
Creativity
Cheerfulness (perma grin alert!)
As the name suggests, you may taste and smell citrusy pineapple with an undertone of pine by consuming Pineapple Express. Terpene content in this strain includes Caryophyllene, Limonene, Pinene, and Ocimene.
While the price per gram of Pineapple Express is a little higher than average, many patients feel it is worth the cost. It may help with anxiety, lethargy or fatigue symptoms, depression, and pain. Pineapple Express has a reputation for being a "stress-busting" happy strain.

8. Sour Diesel
Sour Diesel has been around a long time, since the 1990s. You can also find it in dispensaries listed as "Sour D" or "Sour Deez." This strain has an average 19% THC content and may create feelings of energy, creativity, and talkativeness. That makes it a great strain to try if you are going to be doing something social.
The Sour Diesel strain was bred from Chemdawg and Super Skunk. Many people describe the "high" as dreamy and very cerebral. It is also considered to be a fast-acting strain, with the full psychoactive effects experienced a short time after consumption.
As the name implies, expect to taste and smell notes of diesel fuel. Many patients choose Sour D because it can relax feelings of anxiety and boost low moods experienced by people with symptoms of depression.
The primary terpene content in Sour Diesel is Caryophyllene. That gives it some spicy or pepper-like undertones; the terpene is also believed to help with inflammation. Sour D also contains Myrcene and Limonene content.

9. Super Silver Haze
Green House Seeds developed Super Silver Haze (SSH), and the strain was the first-ever winner of the High Times Cannabis Cup. It won consecutively from 1997 to 1999. Skunk, Northern Lights, and Haze developed the Super Silver Haze strain.
Super Silver Haze has an average THC content of 21% and about 1% CBG content. Patients with a Florida medical marijuana card frequently choose this strain to help them address symptoms of:
Anxiety
Depression
Stress
Loss of appetite
Nausea
The Sativa strain is definitely uplifting for most people who use it. The dominant terpene is Myrcene, and there is Caryophyllene and Limonene content. The flavor of Super Silver Haze is described as sweet, with notes of pine, menthol, and citrus.
10. 9 lb Hammer
It's hammer time! As the name suggests, the 9 lb Hammer (or 9 Pound Hammer) strain packs quite a punch. It has built a reputation for being sedating, so it is best used in the evening. But the sedative effects of this strain are welcomed by many patients who struggle with symptoms of chronic pain, anxiety, and insomnia.
With a 20% average THC content and 1% CBG, the 9 lb Hammer can leave you feeling sleepy, relaxed, and like many Indica strains, hungry. That may also help patients who have reduced appetites due to health conditions or nausea caused by certain medical treatments like chemotherapy.
JinxProof Genetics created the Indica strain by crossing Gooberry, Hells OG, and Jack the Ripper genes. The flower from 9 Pound Hammer are very dense and have a sweet grape-like flavor when consumed, with mild notes of lime.
The dominant terpene in 9 Pound Hammer is Myrcene, but there are two other terpenes prominent in the strain; Pinene and Caryophyllene.
11. Wedding Cake
Phenohunters refer to Wedding Cake as "Triangle Mints #23". The strain is an Indica dominant hybrid developed from Triangle Kush and Animal Mints. With a whopping average of 24% THC and 1% CBG content, Wedding Cake is suggested for more experienced cannabis users.
Wedding Cake won the coveted "Leafly Strain of the Year" in 2019. Patients who choose Wedding Cake may use the strain to help with symptoms of:
Insomnia
Appetite Loss
Muscle Pain
Chronic Pain
Stress
Depression
Anxiety
The Wedding Cake strain tastes a little earthy with peppery undertones. The effects for many people after consuming the strain include feelings of relaxation and euphoria. Get ready for a "snack attack," though, because Wedding Cake does a good job of stimulating appetites. The two prominent terpenes in Wedding Cake are Limonene and Myrcene. It is one of the most commonly sold and carried strains of medical marijuana in Florida dispensaries.

12. White Widow
Originating from famous landrace species of the cannabis plant, White Widow was bred in the Netherlands by a cultivator called Green House Seeds. The strain is derived from Brazilian (Sativa) and South Indian (Indica) strains.
White Widow is such a legendary strain that it has been used to cultivate other popular plants, including White Russian and Blue Widow. The psychoactive effects of White Widow are described as "bursts of energy and creativity." If relaxing and taking it slow (mentally and physically) is your goal, this may not be the strain you are looking for.
The White Widow strain has an average of 15% THC and 1% CBG. For some people, 15% THC is tolerable and not overwhelming. Medical marijuana dispensaries frequently recommend White Widow for depression, anxiety, and mild to moderate pain symptoms.
The flavor of White Widow cannabis is described as earthy, with fruit and citrus undertones. The scent after incinerating the strain is also fruity and tart. However, some people do not like the harsh tart flavor and find it too much citrus. Myrcene is the dominant terpene, followed by Caryophyllene and Pinene content in the strain.
How to Decide on the Right Medical Cannabis Strain
More research is needed to understand how (and why) certain strains of cannabis work well for some patients. And why other strains can be less effective at helping with uncomfortable health symptoms.
When you receive your Florida medical marijuana card, it is the start of a journey to find out which strains work best for you. In that process, your DocMJ physician can provide suggestions and advice that may help. Your local medical cannabis dispensary team is also trained to help patients find the right strains and most effective routes (tinctures, edibles, smokable cannabis, capsules, etc.).
What If You Don't Like the Strain You Purchased?
When you first get your medical card and start trying different strains of cannabis, you may find one or two you really don't like. Unfortunately, strains and products cannot be returned to the medical cannabis dispensary for a refund unless there is something wrong with the product.
We suggest patients start by purchasing small amounts when they are trying new cannabis strains. That way, if you don't like it, you have not purchased your limit on a strain that doesn't work well for you. Don't be afraid to ask for very small quantities when you are starting to buy medical cannabis. In fact, your budtender will likely recommend that option to you.
Patients should log their experiences with different strains. That will help you find your favorite strain and a few alternatives (in case it is unavailable at the dispensary).
DocMJ Convenient Clinic Locations in Florida
In Florida, patients are required to consult in person with a physician. DocMJ has thirty (30) conveniently located offices throughout the state of Florida. Schedule your appointment online with one of our friendly marijuana doctors to learn more about medical marijuana and get your Florida medical card.
I am a Chief Marketing Officer at DocMJ, a leading provider of medical cannabis health services to qualified patients. I have over 20 years of experience in healthcare marketing and communications, with a proven track record of delivering impactful and compliant campaigns that educate, inform, and empower patients to make better choices for their health and wellness.