8 Great Strains With Holiday Names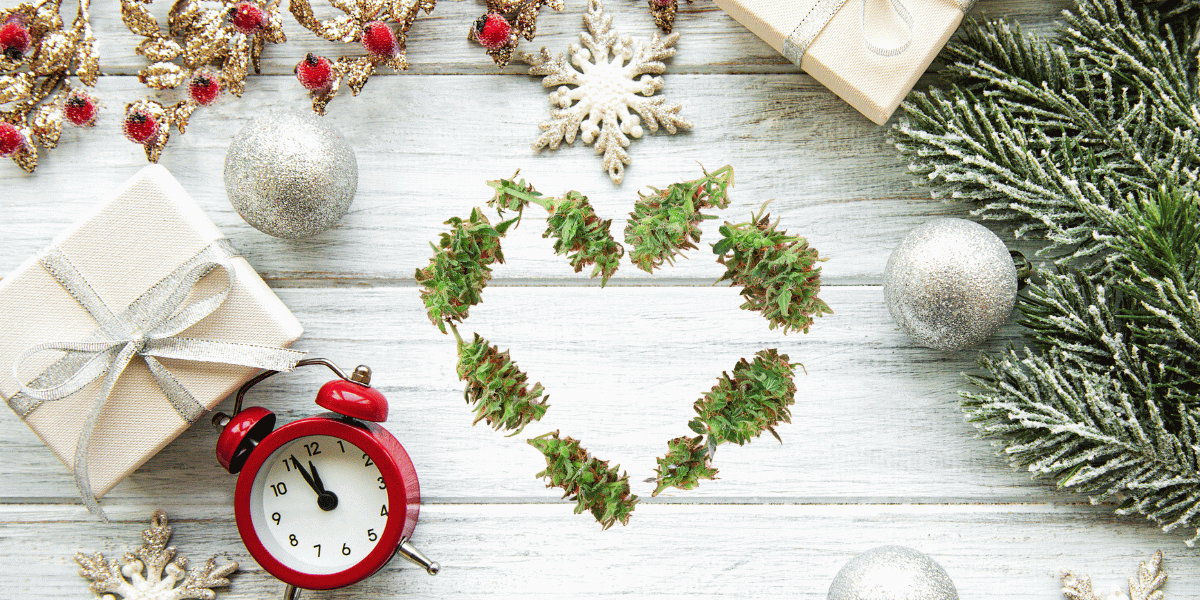 It is that time of year again when you look forward to a little time off and spending it with family and friends. Your local medical cannabis dispensaries will also be celebrating the holiday season with special offers on products and strains that can help you save money.
The holiday season can also be a little stressful. Traveling and wrapping presents, preparing meals, and all the other great things that make December special. For patients who have chronic symptoms, however, the busy holiday season can also present some challenges.
You may be thinking about trying some new strains during the month of December. And planning some relaxing "me time" over the holidays as well. In keeping with the spirit of the season, here are some great cannabis strains with holiday names that will make you smile.
1. Jack Frost
What do you call a cannabis bud that is covered in frosty trichomes? Jack Frost, of course! This strain was developed from White Widow, Jack Herer, and Northern Lights #5. If you are looking for a potent bud with a high probability of getting "the giggles" and feeling happy, read on.
THC 17% to 21%
CBD 0.30%
CBN 0.50%
Sativa 65% Indica 35%
Citrus and pine flavors and musky scent.
Terpinolene is the dominant terpene. Also contains Myrcene.
Downsides to the Jack Frost strain include dry mouth and dry eyes symptoms. Some patients that have used Jack Frost have commented that it can create feelings of paranoia. So if you are looking for relief from anxiety, this may not be the strain you are looking for.
2. Christmas Tree
"Christmas tree, oh Christmas tree, how lovely are thy branches." Or, in this case, flowers. Because each bud is shaped just like a Christmas tree, with a pointy top and fluffy base. The flower is deep green with bright orange hairs and a dusting of white trichomes.
Christmas Tree cannabis is very festive for the holiday season. The strain even smells like a pine tree thanks to the secondary terpene Phellandrene. But the origins of the strain are kind of a mystery.
THC 25% to 28%
CBD 0.40%
CBC 0.40%
CBG 0.07%
CBN 0.50%
THCV 0.65%
Indica 60% Sativa 40%
Tastes like spicy herbs and pine, with a dank after-flavor.
Pinene is the dominant terpene, with Carene and Phellandrene content.
The Christmas Tree cannabis strain may help with chronic pain, insomnia, anxiety, and stress. Find a comfy spot and relax because this potent strain can have a very sedating effect. And it is recommended only for experienced cannabis users.
3. Three (3) Kings
The Three Kings cannabis strain was bred from Sour Diesel, Headband, and OG Kush. It has earned a reputation for potency but can be highly effective for pain relief, anxiety and stress. However, many people have reviewed this strain and said that relaxation is the primary benefit while still maintaining focus and alertness.
THC 14% to 18%
CBD 1%
CBC 1%
CBG 1.05%
CBN 0.26%
THCV 1.60%
Sativa 70% Indica 30%
The aroma and flavor of pine with a pungent aftertaste.
Linalool is the dominant terpene, with Pinene, Ocimene, Limonene, Carene, and Bisabolol content.
If you want to try 3 Kings cannabis, make sure you are well hydrated (and keep some water close by). The strain is known for creating cottonmouth and dryness of the eyes. It is a lower THC favorite on the West Coast.
4. Sugar Plum
Cultivated by Stoney Girl Gardens, this strain is a cross between Berkeley Blues and Hawaiian Haze Plum. The award-winning (Oregon Cannabis Cup) Sugar Plum cannabis strain has a distinctly tropical flavor and can provide some long-lasting cerebral psychoactive effects.
This cannabis strain may not make visions of sugarplums dance in your head. But it has a reputation for lifting the mood, with a high probability of infectious giggles. Which, over the holiday season, wouldn't be a bad thing per se. Particularly if you have to attend a family dinner (or two).
THC 20%
CBG 1%
90% Sativa 10% Indica
Tastes like plum and sugar, with berry notes.
Dominant terpene is myrcene, with pinene and caryophyllene content.
According to reviews, Sugar Plum cannabis is great for stress. And can also help people suffering from symptoms of depression by providing a mood lift. A big mood lift, thanks to 90% Sativa lineage. Patients with chronic pain may also find it effective for symptom relief.
5. The Grinch
When it comes to green goblins, The Grinch takes the cake. But for cannabis strains, The Grinch is actually a lot more friendly, as it is a perfect 50/50 Sativa and Indica balance. It is a cross between The Ox and The Blood strains with an impressive medicinal potential for mental health symptom management.
People with ADD or ADHD may find The Grinch to be a strain that works for them. Also, individuals who may struggle with symptoms of PTSD. Rather than being sedating, the psychoactive effects of The Grinch cannabis is more euphoric, energetic, and vibrant.
THC 23%
CBD 1%
Indica 50% Sativa 50%
Both sweet and sour flavors, with hints of lemon and raspberry.
Borneol is the primary terpene, with Linalool and Terpineol content.
Concentration and focus can take a hit after consuming The Grinch. You may definitely get up off the couch and be eager to do something. You just may not remember what it is you were going to do.
6. Sugar Cookie
Warning! If you want Santa to make it to everyone's house this year, this is not the kind of sugar cookie you want to leave out. The Sugar Cookie strain of cannabis was created from Crystal Gayle, Blue Hawaiian, and Sensi Star. But all jokes aside, Sugar Cookie cannabis is a strain packed with helpful cannabinoids.
THC 22%
CBC 0.90%
CBG 1%
CBN 0.28%
THCV 0.78%
Indica 70% Sativa 30%
Berry and fruity flavors, with vanilla and sweet aftertaste.
Caryophyllene, Limonene, and Humulene terpene content.
Some people have commented that Sugar Cookies can have a few negative effects, including dry mouth and dry eyes. But for others, it also caused symptoms of dizziness and headache and some feelings of paranoia. However, many people have stated that it is helpful for symptoms of pain, depression, and insomnia.
7. Candy Cane
Oh yes, it definitely tastes minty! So if you are expecting a dank flavor, you'll be pleasantly surprised. Candy Cane cannabis was developed from AK-47, Mango, and White Widow and has earned a reputation for helping with stress and anxiety.
Candy Cane is on the lower spectrum of THC potency. And that can make it a good strain for daytime use when you want relief without feeling sedated. The strain is packed with more terpenes and cannabinoids than a candy cane has stripes.
THC 14%
CBD 0.53%
CBC 0.54%
CBG 0.99%
CBN 0.34%
THCV 0.88%
Indica 70% Sativa 30%
Tastes like mango, mint, and sweet berry.
Myrcene is the dominant terpene, with Carene, Pinene, Ocimene, Humulene, Limonene, Linalool, and Caryophyllene content.
For lower potency cannabis, Candy Cane can cause a powerful case of munchies. Depending on your mood, it can also stimulate creativity. This may make Candy Cane the perfect strain for decorating your house, wrapping gifts, and other at-home activities.
Except that the strong Indica influence of this strain makes sitting on your couch and watching movies more likely. Your dog won't mind, though.
8. Jesus OG
Trying to understand why someone would name a strain of cannabis Jesus? It is even more interesting when you learn what two strains Jesus OG is derived from. The strain is a hybrid of Hell's OG and Jack the Ripper.
Jesus OG is one of the few cannabis strains that can have psychedelic effects. It can produce a heavy cerebral high, but it won't leave you feeling like crawling into a manger. This strain can be very effective for people who struggle with symptoms of anxiety.
THC 24%
CBD 1%
CBG 1%
Indica 50% Sativa 50%
The aroma and flavor are similar to lemon and pine.
Myrcene is the dominant terpene. Also contains Beta-Caryophyllene, Alpha Humulene, Terpinolene, and Limonene.
The only downside of Jesus OG is it can give you a bit of perma-smile and "happy eyes." So if you are looking to keep your cannabis use on the down low, this strain has no poker face. But it might be the perfect strain for hanging out at home in case three wise men (or women) show up.
Always be learning about new types of cannabinoids and terpene combinations in strains that can help you manage your symptoms. And don't forget to get advice from the experts at your local medical marijuana dispensary.
Aaron Bloom serves as the CEO, overseeing the mission and growth of DocMJ. Aaron's passion for improving patient's lives comes from his background in health care. For more than 20 years Aaron owned, operated, and represented traditional health care organizations. This experience created a passion for finding improved ways to relieve suffering. His goal as CEO is to work hard every day to bring relief to all patients who seek better health and wellness through the medicinal benefits of medical cannabis and evidence based alternative medicines.