Are Students Educated on Cannabis in Medical School?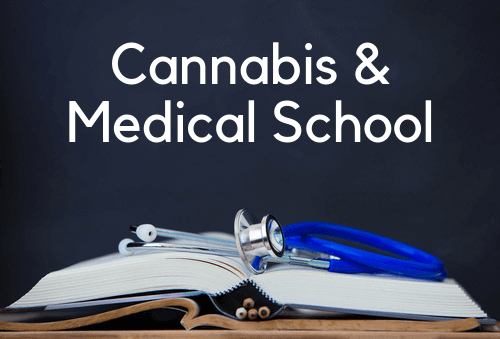 Medical marijuana is becoming a more popular and socially acceptable option with each passing year. As new research is published, more people become interested and more questions are asked, causing more experiments to be done and more research to be published. This cycle has started to spin faster and faster, leading to a whirlwind of new information and use cases. Considering the amount of information on marijuana, and its new-found importance in the lives of ordinary people, then surely it must have found its way into medical textbooks, right? In this post, we will see how certified medical marijuana doctors earn this description and how new medical professionals are preparing for a post-legalization world.
Do you qualify for a Florida medical marijuana recommendation? Start the process of becoming a legal Florida medical marijuana patient today by completing our online eligibility survey. Click here to schedule an exam with one of our licensed Florida medical marijuana doctors.
Do Medical Schools Teach Students About Medical Marijuana?
With how quickly medical marijuana has taken the spotlight it is easy to see both possibilities: medical schools haven't been able to adapt quickly enough and have not updated their curriculum to include marijuana, or, medical schools have quickly added the newly-discovered information to their syllabi and medical students are already entering the workforce with the necessary marijuana-related training. In the majority's case, though, it is the first possibility. As it stands, most medical students are not learning about medical marijuana during their schooling, according to a 2017 report [1].
The paper goes on to describe the feelings of both school deans and graduates. At the time, only twenty four percent of deans felt that their students were adequately prepared to answer questions regarding marijuana. This fell to only six percent when asked if students were prepared to prescribe medical marijuana. Concerning residents and fellows, nearly eighty five percent said they received no education about medical marijuana during school or residency. Interestingly, these numbers were slightly different depending on the specialty the resident was entering.
What Does This Mean and Why is This Important?
Essentially, this means that most students freshly out of medical school feel as though they are unqualified to answer patient questions about medical marijuana. This has led to some students voicing their discomfort, even in some of the most well-regarded medical school in the country, including Harvard and Stanford.
On the other hand, some physicians argue against medical marijuana being taught in medical school, citing the lack of reputable research and the increasing number of other emergencies that doctors must be prepared for. Adding another layer of complexity to the already full workload that medical students have could lead to more burnout and a weaker understanding of other core concepts [2].
The fact stands, though, that marijuana use is much more common than it was previously, and physicians are seeing positive screenings at an increasing rate. If patients are consuming marijuana, and marijuana has a large effect on the body, then understanding how it can interact with a patient's possible procedures, medications, or lifestyle is crucial.
The increasingly common use of marijuana has also sparked some debate among doctors as well, with some even publishing opinion pieces lamenting the modern marijuana movement [3]. They say that the amount of recommendation requests is so high that correctly following protocol is becoming more difficult.
Doctors are a notoriously conservative bunch when it comes to treatments, and for good reason. Few people would prefer an under-researched prescription to a proven one, and that is how many doctors perceive marijuana. There may be some proof to that too, the current state of research on the medicinal and therapeutic efficacy of marijuana is muggy. Studies are constantly finding opposing results and true "double blind" studies are hard to come by. While this is changing, in large part thanks to the shifting laws and classifications regarding certain chemicals allowing researchers easier access to quality marijuana, it may still be a while before it gains wide acceptance in the medical community.
How Do Physicians Get Certified?
If doctors aren't learning about medical marijuana, then how can they get the certification to recommend marijuana to patients? Well, it varies by state. In Florida, doctors who have a current license can take a two-hour course provided by the Florida Medical Association and the Florida Osteopathic Medical Association followed by an examination. Completion of this course is required every time the doctor wants to renew their license [4].
In Conclusion
As it stands today, most medical students are not getting educated on medical marijuana in schools. While this could have serious implications considering the number of users, there are valid concerns raised by those opposed to adding it to the curriculum. Namely, that students are already learning about a large number of other emergencies, and that current research isn't necessarily up to their high standards. Therefore, in order to get certified, physicians must comply with the standards set by their state before recommending medical marijuana to patients.
Cited Works
[1] https://www.ncbi.nlm.nih.gov/pmc/articles/PMC5648595/
[2] https://scopeblog.stanford.edu/2019/06/04/physicians-need-to-be-educated-about-marijuana-resident-argues/
[3] https://www.medpagetoday.com/blogs/pain-points/74600
[4] http://knowthefactsmmj.com/physicians/#get-started