Blue Dream: A Daytime Strain Offering Quick Symptom Relief and Full-Body Relaxation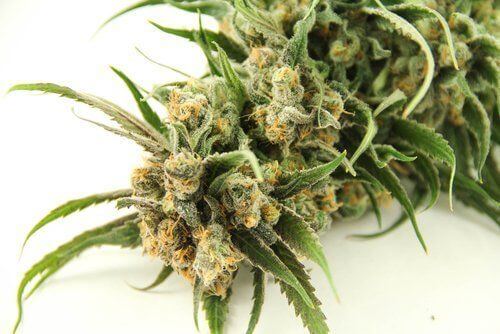 Blue Dream: A Daytime Strain Offering Quick Symptom Relief and Full-Body Relaxation
Chronic illnesses are long-lasting conditions that usually can be controlled but not cured. Every one in two adults in the United States live with a chronic illness and those living with one must often manage life-changing symptoms on a daily basis. [1] Chronic conditions such as back pain and depression are often the main reasons people experience decreased productivity and according to the Center for Disease Control, chronic diseases are the leading cause of death in the US.
Many chronic conditions are caused by a number of different health factors. These can take some time to develop, last for a long time, and even lead to other issues. If you or a loved one suffer from a chronic illness and are having a difficult time managing the symptoms medical marijuana might be right for you. By taking our quick online eligibility survey, you can take the first step to see if you pre-qualify for a medical cannabis recommendation in Florida. One of our compassionate Florida Medical Marijuana (MMJ) Doctors will be able to guide you to get the relief you are looking for by using MMJ products.
Some examples of qualifying chronic conditions are:[2]
Cancer

Epilepsy

Glaucoma

HIV/AIDS

Post-traumatic stress disorder (PTSD)

Amyotrophic lateral sclerosis (ALS)

Crohn's disease

Parkinson's disease

Multiple sclerosis (MS)

Chronic Pain
Maintaining your best quality of life with a chronic condition
Through effective behavior change efforts, overall management of your health, and being aware enough to identify new problems, chronic diseases and their symptoms can often be managed effectively.
To maintain your best quality of life, you or your carer can help by:[3]
finding reliable information about the disease, its treatment and management – will help you feel you are taking a positive step and give you a feeling of control over your illness

understanding your medication, including what it is specifically for, any special instructions and potential side effects

setting yourself goals – short-term goals will give you a sense of how you are progressing

developing skills to manage your pain and fatigue

getting emotional support – speak to others who are going through what you are, as well as leaning on family and friends when you need to

planning for the future – be realistic about your future health and discuss this with your doctor.
Some of the persons suffering from chronic illness are still unable to live their day to day lives as normal. Medical marijuana is a great addition to a routine that needs an extra boost to get relief. Blue Dream, a cannabis cultivar that has sativa-dominant effects, is a great option for qualified patients who want quick symptom relief with full-body relaxation.
Blue Dream
Blue Dream, as described by BDS Analytics, is a cross between the cultivars Blueberry and Haze. It is an everpopular favorite among consumers across the board and has been the #1-selling strain in both Washington and Colorado. Clones of Blue Dream root quickly and consistently. It produces high yields of flowers – typically around two pounds per plant– and is resistant to powdery mold, making it a favorite plant to grow for growers throughout the world.
Another reason for this strains popularity among cultivators is that it is a clone-only strain that is not claimed by one specific person or group. Blue Dream is considered "open sourced" and cuttings of it are easy to find. It is also a great strain to make concentrates from, producing a flavorful and aromatic product.
Lineage
Blue dream is a byproduct of two great strains – Blueberry and Haze. Blueberry, the 2000's High Times Cannabis Cup's winner of Best Indica, is known for its overall calming and euphoric effects. It has high levels of myrcene, caryophyllene, and pinene, making it a great option for patients who suffer from anxiety, pain, and insomnia. [5] Haze, a cerebral sativa with spicy yet citrusy scents, allows for uplifting effects that combats depression and fatigue while allowing for energy and a spark of creativity.
Blue Dream emerged in Northern California, but most of its history is a bit of a mystery. It is believed to have first appeared in Santa Cruz, a coastal city, and then it was eventually taken over by the veteran breeder DJ Short. In the early 70's, DJ Short revamped the strain and dialed it in to the cultivar we are familiar with today.
Potency
Blue Dream's THC Potency is typically around 18-23%.
Looks
The flower nugs are long, dense, and bushy. They have tones of bright greens and deep blues with amber pistils and lots of sugary white trichomes.
Smell
Blue Dream offers notes of berries and a candy-like sweetness that has a bit of spicy overtones. Mainly showcasing the smells of its parent strain Blueberry.
Flavor
This strain normally gets its best flavor when grown in soil. Much like its scent, Blue Dream has a deep fruity and floral flavor similar to grapes or lavender as well as warm, woody, and skunky undertones that make the exhale taste similar to a blueberry muffin.
Terpene Profile
Lab testing has shown that Blue Dream is high in myrcene, pinene, and caryophyllene.
Effects
Very few strains offer the classic upbeat, social, and anxiety-free experience that Blue Dream does. It is popular with both new and experienced users because of its flavor profile, but also due to the generous amount of euphoria produced. According to Leafly, this strain gives feelings of happiness and creativity while uplifting one's mood. The effects typically last from 2-4 hours but will vary depending on the individual. It is a great morning and daytime strain and can be used to gain energy, improve focus, and spark creativity.
Medical Uses
Blue Dreams terpene profile and overall cannabinoid profile produces amazing relief for a variety of symptoms. The light full body relaxation combined with an uplifting cerebral stimulation gives users symptom relief without drowsiness or sedation. It is a gentle pain reliever and a muscle relaxant that helps patients who suffer from headaches, menstrual cramps, anxiety, and stress. This strain acts as a bronchodilator as well making it a great option for patients who suffer from asthma. Blue Dream is a great choice for those who are sensitive to high-energy producing sativas but are looking for a functional daytime strain that will not cause paranoia or anxiety.
How To Find It:
Qualified patients in Florida searching for relief from the strain Blue Dream can find it in a few different Medical Marijiuana Treatment Centers (MMTC). The following MMTC's offer Blue Dream products:
Curaleaf: Blue Dream Flower and Pre-Rolls.

Fluent: Baldor Black Concentrate Syringe, Baldor Black Concentrate Vaporizer Cartridge, Baldor Flower, and Baldor Vaporizer Cartridge.

Liberty Health Sciences: Mary's Medicinals Sativa Dominant Transdermal Gel Pen, Aphria's Sativa Disposable Vape Pen, Blue Dream Flower, Blue Dream Pre-Rolls, Sativa Concentrate Syringe.

MedMen: LuxLyte Sativa Dominant Drops and LuxLyte Sativa Dominant Vaporizer Cartridges.

RiSE: Rhythm Blue Dream Vaporizer Cartridge.
If you or a loved one suffer from medical conditions that could benefit from the symptom relief Blue Dream offers, schedule a risk-free appointment with one of our qualified and knowledgeable Florida Medical Marijuana Physicians to begin your medical marijuana journey.
[1] https://www.cdc.gov/learnmorefeelbetter/programs/general.htm
[2] https://knowthefactsmmj.com/patients/
[3]https://www.betterhealth.vic.gov.au/health/ServicesAndSupport/managing-long-term-illness-and-chronic-conditions
[4] https://bdsanalytics.com/flower-the-foundation-of-the-cannabis-industry-executive-summary/
[5] https://www.leafly.com/strains/blueberry/info
[6]https://www.civilized.life/articles/blue-dream-colorado-washington-strain-sales
[7]http://www.bdsanalytics.com/wp-content/uploads/2016/02/BDS_Analytics_Cannacon_Colorado.pdf
[8]https://hightimes.com/strains/why-is-blue-dream-the-most-popular-strain-of-legal-weed/
[9]https://www.wikileaf.com/strain/blue-dream/