Can Medical Marijuana Help People With Scoliosis?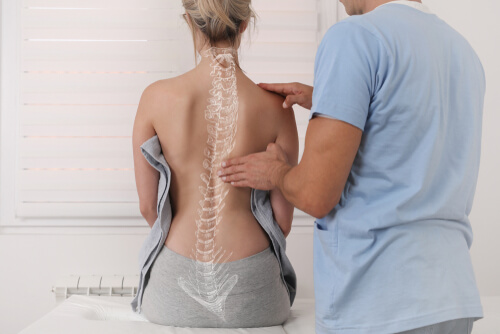 A person who is suffering from Scoliosis also suffers from chronic pain. The more crooked the spine, the more painful the condition is. Since 2016, residents of Florida have been legally able to use Medical Marijuana to treat chronic pain as well as a variety of other conditions.
In order to legally be able to use medical marijuana products in Florida, a person has to be approved by a qualified physician and approved by the state's Office of Medical Marijuana Use. To see if you could be eligible for your Florida Medical Marijuana Card, take this quick survey. If you are ready to take the next step to becoming a qualified patient, book a risk-free appointment at one of our many locations throughout the state.
What is Scoliosis?
Scoliosis is a curvature of the spine that occurs most often during the growth spurt just before puberty. [1] While this condition can sometimes be caused by cerebral palsy and muscular dystrophy, the exact cause of most scoliosis is unknown. Around 3% of adolescents have scoliosis. [2] Most cases of scoliosis are mild, but some spine deformities can continue to get more severe over time. If it is severe enough, scoliosis can even be disabling.
Symptoms and Complications of Scoliosis
Signs and symptoms of scoliosis may include uneven shoulders, one shoulder blade that appears more prominent than the other, an uneven waist, and one hip being higher than the other. If the spinal curvature gets worse over time, the spine can also twist or rotate. This can result in the ribs on one side of the body to stick out farther in comparison to the other side.

Other symptoms of scoliosis include:
Lopsided posture
Disproportionate rib cages
Head unaligned with pelvis
Uneven waist
Fatigue
Pain that shoots down the legs
Back pain
Numbness
Inflammation
Different appearance or skin texture over the affected sections of the spine.
Not every scoliosis patient will experience the same symptoms. Since it can appear in different sections of the spine and vary in curvature, it can cause mild discomfort or severely affect one's posture and quality of life severely.
Most people with scoliosis have a mild form of the disorder; however, it can sometimes cause complications, including:
Lung and heart damage. In severe scoliosis, the rib cage may press against the lungs and heart, resulting in it being more difficult to breathe and harder for the heart to pump.
Back problems. Adults who had scoliosis as children are more likely to have chronic back pain than are people in the general population. [1]
Appearance. As it worsens, scoliosis can cause more noticeable changes — such as uneven hips and shoulders, prominent ribs, and other shifts in posture. Individuals with scoliosis often become self-conscious about how they look.
What Does the Research Say?
Marijuana was classified as a Schedule 1 Controlled Substance in the Controlled Substance Act of 1970, which placed limitations on the type of clinical research permitted. The scientific community has still closely studied the benefits of medical cannabis for things such as pain and anxiety relief. While there needs to be a little more data to show conclusive evidence, many studies have shown that marijuana soothes pain.
Traditional treatments that are used for treating Scoliosis offer short-term relief for alleviating the pain and steadiness in the curve of the spine. Anti-inflammatory medications are typically prescribed to patients with Scoliosis; however, these medications can result in the development of dependency and include many negative side-effects. Medical Cannabis can help to mitigate the pain and also helps in the proper treatment of the medical condition.
A recent clinical study measured the effectiveness of medical marijuana as an alternative to opiods for a pain relief regimen. The results showed that twenty-seven percent of the patients decreased the number of opiates they needed to take while feeling the same relief from their pain.

Another study examined the pain-relieving properties of cannabis for pain patients. Subjects who smoked three "marijuana cigarettes" a day felt thirty-four percent less pain compared to those who did not smoke cannabis.
Traditionally, people who suffer from scoliosis also suffer from complications that stem from inflammation so they are prescribed anti-inflammatory medications from their physician. Cannabinoids have also shown to have anti-inflammatory properties and can relieve the inflammation from scoliosis as well as arthritis, fibromyalgia, chronic pain and similar disorders that cause swelling.
Smoking Cannabis vs Additional Routes of Administration
While the most common way of using medical cannabis is through smoking the combusted marijuana flowers, there are alternative routes of administration that qualified patients can choose in order to get relief. Products such as edibles, sublinguals, topicals, and suppositories all have different pros and cons for using them.
Smoking: This is the most popular form of consuming marijuana and is a good option for those looking for immediate relief. The effects from the smoked cannabis typically set in within fifteen minutes and can last for up to four hours. The downside? When cannabis is heated to a high enough temperature to combust and produce smoke, the majority of the medicinal chemicals have been burned off and some carcinogens are even produced.
Vaping: Vaporized cannabis flower and cannabis extract is the healthier alternative to smoking whole flower. When vaporized, the product is heated to the temperature needed to activate the cannabinoids without burning off or changing them like in combustion. The effects from vaporized cannabis set in almost immediately and can last for up to four hours.
Edibles: Edibles are ideal for long lasting relief. The effects can take up to 2 hours to kick in, but they will last for up to eight hours after consumption. When passing through the liver, the delta-9 THC is transformed into 11-hydroxy THC. This is a type of THC that is more potent than delta-9, creating a more intense euphoria than inhaled cannabis. Patients are encouraged to start with a low dose and work their way up to a higher one to avoid having a negative experience.
Sublinguals: These are products that are meant to be placed under the tongue for rapid absorption. The effects from sublinguals should kick in within six hours and can last for around six. While easy to dose, the absorption rate from sublinguals are typically low, so more product will need to be taken throughout the day.
Topicals: For localized pain relief, topical products can be a great option. Unless it is labeled as a "transdermal" topicals will not be absorbed into the bloodstream, meaning there will not be any kind of euphoria experienced.
Suppositories: Suppositories are arguably one of the most effective forms of utilizing medical cannabis. Your gut is saturated with CB1 and CB2 receptors and because of how porous it is, the absorption rate is better than when it is inhaled through the lungs. The effects from suppositories kick in almost immediately and can last for around four to six hours.
As you can see, there are many options that qualified patients have access to in the Florida Medical Marijuana Program. The route that you feel most comfortable with is the best option for you as long as you consider the difference in dosing each route. A general rule for trying out new products is to start low and slowly add more and more into your regimen until you find the relief you are looking for.
Getting a Florida Medical Marijuana Card
To be able to legally purchase and use any medical marijuana products in Florida, you must first have been approved for a Medical Marijuana Card. Per state guidelines, the following requirements must be met in order to be approved by Florida's Office of Medical Marijuana Use:
A Qualified Patient Must:
Be a permanent or seasonal Florida resident
Be diagnosed with a qualifying medical condition by a qualified physician
Be entered into the Medical Marijuana Use Registry
Obtain a Medical Marijuana Use Registry Identification Card
Qualifying Medical Conditions:
Cancer
Epilepsy
Glaucoma
HIV/AIDS
Post-traumatic stress disorder (PTSD)
Amyotrophic lateral sclerosis (ALS)
Crohn's disease
Parkinson's disease
Multiple sclerosis (MS)
A terminal condition diagnosed by a physician other than the qualified physician issuing the physician certification.
Chronic nonmalignant pain caused by a qualifying medical condition or that originates from a qualifying medical condition and persists beyond the usual course of that qualifying medical condition.
Medical conditions of the same kind or class as or comparable to the others listed.
The last two bullets under Qualifying Conditions leave room for a qualified physician to determine whether or not you are a good candidate for medical marijauna in Florida. If you are still unsure if you qualify for your Florida medical marijuana card, this survey will tell you if you could be eligible.
In order to begin your medical cannabis journey, book a risk-free appointment with a qualified Florida Medical Marijuana Physician. During this visit you are able to go over any further questions you may have about the process, marijuana, and how to effectively use it as medicine. If it is determined at the conclusion of your appointment that you do not qualify per state guidelines, you will be issued a full refund.
[1] https://www.mayoclinic.org/diseases-conditions/scoliosis/symptoms-causes/syc-20350716
[2] https://www.srs.org/patients-and-families/conditions-and-treatments/parents/scoliosis/adolescent-idiopathic-scoliosis