Cannabis Soup for the Soul (and Cold Season)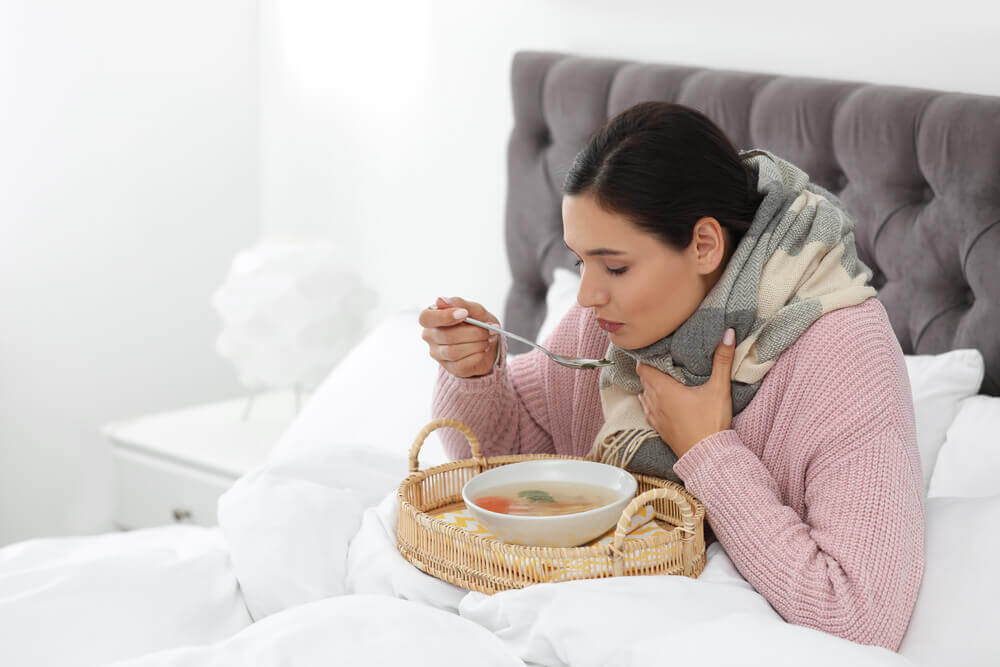 When the weather outside is frightful, the cold and flu bugs are less than delightful. And nothing sounds better than some hot comfort food. If you are a patient with a medical card, you can make cannabis soup at home to help you recover.
Cooking with cannabis isn't hard. And a little goes a long way when creating your cannabis-infused meals at home. It doesn't have to be expensive, but you may find that cannabis soup helps manage some of the more unpleasant symptoms of having a cold or influenza.
Why Do We Get Sick More Often in the Winter Months?
The fall and winter months are a time of festivities and fun. But as the weather changes, that also means more time indoors for most people. It is the season of "Netflix and Chill," mainly if the weather outside is cold.
But while cozying up in front of a fire or television with your dog sounds appealing, more indoor time also increases infection rates. The top contributor to increased respiratory illnesses like the cold and influenza? More time indoors, where bacterial and viral infections can spread easily.
It is not just indoor time; however, that makes us more susceptible. As the temperatures dip, the humidity of the air around you also decreases. And that can dry out mucus membranes, leading to cracked tissue in the respiratory tract. That makes it easier for bacteria or viruses to penetrate and cause an infection.
Lastly, how we eat during the fall and winter months also changes. In the summer, when it is hot, you are more likely to stay hydrated and drink more water. When you aren't feeling the heat, you may forget to hydrate daily. And that can negatively impact your immune system.
The foods we eat during the fall and winter are also less nutrient-dense. According to the Centers for Disease Control and Prevention, 90% of Americans do not eat enough vegetables. And 88% of Americans do not eat enough fruit to meet their nutritional needs. Only 1 in 9 Americans eat enough fruits and vegetables.
What Kind of Foods Should You Eat if You Have a Cold?
Your immune system is a complex machine, and it requires fuel. Have you ever noticed that you are more likely to get sick if you are stressed and haven't been eating well? That is because, without the necessary nutrients, your immune system may be running on empty. And not able to fight off infections effectively.
The problem is that most foods that will get us back on our feet as quickly as possible are not comfort foods. And when you are feeling sick, you may want something carbohydrate dense. Have you ever craved a salad when you have influenza? Few people do.
High-sugar foods are bad for the immune system since they don't contain enough healthy nutrients your body needs. But they do make us feel better because carbohydrates (sugar) can increase our dopamine levels (the feel-good hormone). So, even though we may feel better, we aren't equipping our immune system to defend against bacterial or viral infection. And that means a longer recovery period and sometimes worsened symptoms.
Eat healthily or feel worse longer? The choice seems obvious. But one of the reasons why soup seems like the best food to eat is because it is both comfort food and nutrient dense. With the right recipe, you can give your immune system a boost and feel good too.
Healthy Things to Add to Your Cannabis Soup
If you are creating a broth recipe, you can add any vegetable or herb to your homemade cannabis soup. But you can also research some nutritional ingredients to throw in the pot to help you feel better.
Terpenes are powerful, and they don't just exist in cannabis. Every plant on the planet has terpene content, and many types of terps have medicinal benefits. Some have been used in traditional alternative medicine for thousands of years.
You can add some healthy nutrient boosts with these herbs and vegetables.
Mushrooms
Peppers
Seafood
White beans
Nuts
Kimchi
Garlic
Onions and leeks
Ginger
Turmeric
Hot peppers
Horseradish
Spinach
Kale
When you are choosing different vegetables for your favorite soup recipe, consider that eating natural dietary terpenes can also help extend the wellness benefits of cannabinoids. However, be aware that terpene concentrates (oils) can be toxic and interfere with certain classes of prescription medications. Consult with your doctor for more information.
How-To Make Cannabis Soup
There are a number of different ways you can make cannabis-infused soup. The fastest and easiest way is to add cannabis oil to your soup. That means using a flavorless tincture, which you may choose to add to your bowl, to carefully measure the dose you consume.
If you want to make a bulk batch of soup that will last a few days, you can use decarboxylated cannabis. Once you have activated the cannabis by lightly toasting it (in an oven or air fryer), you can use a cheesecloth or herb net to let the raw cannabis simmer inside your soup. And then remove it after it has finished cooking.
Check out our tips for decarboxylating cannabis and other recipe ideas in this blog post: "A Beginners Guide to Cooking With Cannabis."
5 Cannabis Soup Recipes to Get You Through the Cold and Flu Season
Eating cannabis-infused soup may be a faster way to help relieve symptoms, than other types of medicinal remedies. That is because cannabinoids contain powerful anti-inflammatory properties. Reducing inflammation allows the immune system to get stronger and focus on fighting off bacterial and viral infections—having a hard time getting to sleep? Unsurprisingly, our quality of sleep takes a nosedive when we're sick with the cold or flu. Between nasal and chest congestion, aches and pains, or feeling chilled (not in a good way), it is harder to sleep. And lack of sleep also reduces your immune system functioning.
So a pot of "pot soup" might not be the worst idea if you find yourself at home and having problems with all the symptoms of your cold or flu. And by helping ease inflammation and get better naps and sleep, cannabis-infused soup may even help you recover more quickly.
Here are a few great recipes we found on YouTube that you may want to try at home:
1. Mama Leone's Soup (The Cannabist)
This recipe is a fresh take on a traditional Italian chicken soup recipe. It is loaded with healthy herbs and leafy spinach for extra iron and folate to help get you back on your feet. You'll enjoy Mama Leone's jokes as she 'stirs the pot.'
2. Savory Cannabis Butternut Cream Soup
There is nothing better than a thick creamy soup. Butternut squash contains provitamin A carotenoids, vitamin C, B vitamins, magnesium and manganese, and potassium. Potato, carrots, and a little green pepper round out this tasty recipe.
3. Cannabis-Infused Tomato Soup (Cannadish)
Tomato soup is one of my favorite things when I have a cold or flu. The thickness of the soup is filling, and the sweet flavor of the tomatoes makes you feel good all over. Suppose you love tomatoes as I do. Cannadish is an amazing resource for cannabis-infused recipes.
4. Thai Soup With Cannabutter (Chef Derek Butt)
Plain chicken soup? Boring. Thai chicken cannabis soup? Now you're talking! It's not hard to make this delicious brothy soup packed full of vibrant flavors. Garlic, green onions, black pepper, and citrus juice tossed with rice noodles.
5. Sweet Corn Gazpacho (Laurent Dagenais)
What do you get when you combine sweet corn, yellow peppers, garlic, onion, tomatoes, and cannabis-infused olive oil? You need a mouthwatering soup with all the comfort food flavors to feel better.