Celebrities Who Developed Their Own Cannabis Strains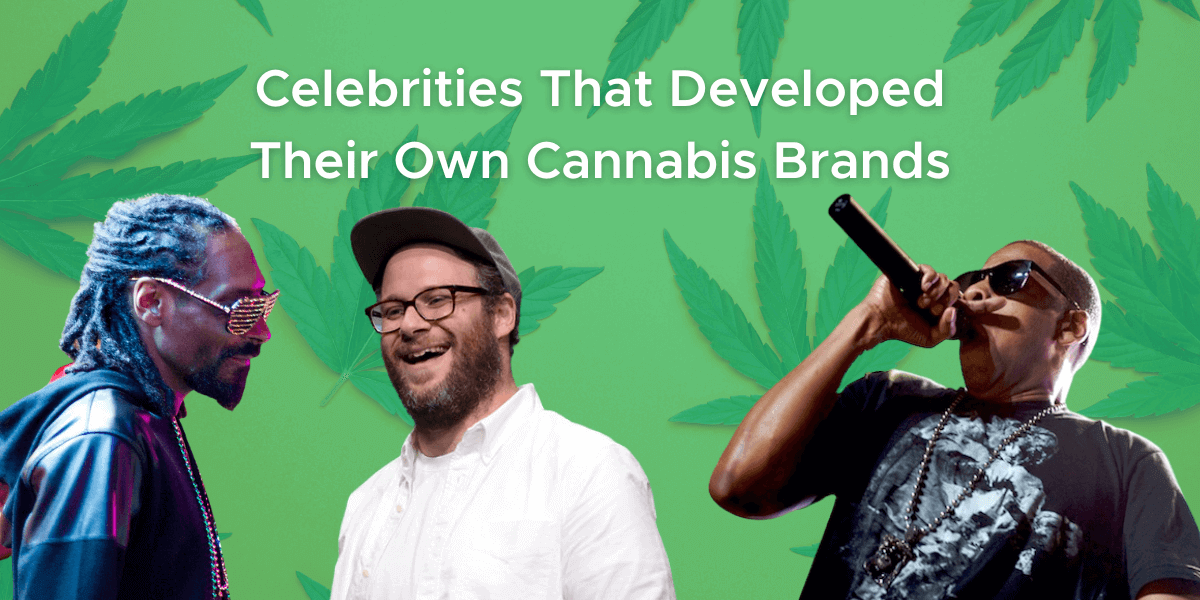 Celebrities always have their hands on new projects, skincare, makeup products, perfumes, or eyewear. The same is true for the cannabis world, where the rich and famous can use their fanbase to launch a popular brand.
With an increasing number of US states legalizing cannabis, the lucrative cannabis industry has started attracting all kinds of people interested in starting their venture. And more than ever, celebrity cannabis brands are entering the market with some hand-curated premium products.
Which celebrities have created their cannabidiol or cannabis brands? And what makes them different than some of the quality strains and products you can find at your local medical dispensary?
If you've been curious about celebrity cannabis brands, check out some of the most recent products from names you know who support responsible use. Beyond names like Belushi's Farm, Garcia Handpicked, Method Man (Wu-Tang Clan), Wiz Khalifa, and Tommy Chong, there are more celebrity cannabis brands to explore than ever before.
Why Do Celebrities Create Their Own Cannabis Brands?
You could have the best idea for a cannabis product, cultivated and processed with care, but making people aware of your product can be an uphill challenge. One of the great obstacles that medical products face is severe restrictions on advertisement and promotion.
In some states like Florida, dispensaries are not allowed to advertise with billboards or other public display ads. And major social media sites like Instagram and Facebook do not allow companies to advertise their own cannabis brand. Even Google won't accept cannabis brand advertisements while cannabis remains banned at the federal level.
An interesting press release or word of mouth (WOM) advertising remains one of the most powerful ways that patients find out about new medicinal marijuana products, whether that is cannabis flower, edibles, tinctures, pre rolls, or new strains.
Celebrities who developed their own cannabis strains have a clear advantage. They have already built a fan base and a large email and social media following. Whether they are selling their own branded medical or marijuana for recreational use, they can count on support from their community. And develop a full line of cannabis products that will sell, thanks to celebrity endorsements.
How Involved Are Celebrity Owners in Cultivation and Product Development?
Celebrities may pick one or two strains that they develop in partnership with a dispensary. In states like Florida, where medical cannabis is vertically integrated, dispensaries cultivate, process, and grow their own medical marijuana.
The cannabis industry is always eager to work with celebrities who support cannabis use. A celebrity that develops their own brand is usually considered a cannabis connoisseur. And they have been public about their support of the cannabis community.
Creating Cannabis Products That Represent Their Values
Most celebrities are very careful about the products they develop. Because having your own weed with your name on it, is a big deal. And since their personal brand means a lot to them, they are likely to develop quality products. Or a socially conscious product line or exclusive private stash that supports a cause or movement they believe in.
Partners in the cannabis industry can work with a celebrity to cultivate a new hybrid strain of legal weed that is unique. And the celebrity brand can be popular if the individual is a long time cannabis advocate. Some of the most popular celebrities create their own line that can only be found at California dispensaries. But some are also available here in Florida.
Snoop Dogg
Hands up if you knew it was only a matter of time before Snoop Dogg created his own brand of legalized cannabis. Snoop Dogg has long advocated for weed smoking, even before the legalization of marijuana spread throughout the US. However, after the legalization, Snoop Dogg decided to turn his passion into a business by starting his own cannabis company called Leafs by Snoop. The brand specializes in cannabis strains, concentrates, flowers, and edibles.
The Leafs By Snoop brand was established in 2015 in Colorado, along with the Canadian cannabis company Canopy Growth. Currently, the products sold by the company can be found in various dispensaries across Canada and the US.
Leafs by Snoop Popular Cannabis Products
One of the reasons why Leafs by Snoop Dogg is so popular is because the internationally acclaimed rapper may know a thing or two about the cannabis game. Snoop Dogg cannabis strains include Indica strains Bananas, Northern Lights, Moonbeam, Cali Kush, and Purple Bush. Sativa dominant cannabis strains include Lemon Pie, Blueberry Dream, and Tangerine Man.
Snoop Dogg has also recently launched a line of chocolate edibles in dark chocolate and milk chocolate varieties. So if smokable medical cannabis isn't your preference, you have some tasty cannabis edibles as an option.
The Bellamy Brothers
America's country-music icons, the Bellamy Brothers, partnered with Florida-based Trulieve to create an Old Hippie Stash. The product line is named after the duo's song "Old Hippie," which charted at number 2 for two weeks on the Hot Country Songs.
The Old Hippie Stash is available at Trulieve dispensaries across Florida and is categorized into two main types: sweet and piney with euphoric and cerebral effects; and spicy and floral with slight pungent undertones. Besides its recreational properties, the Bellamy Brothers are supporters of marijuana for its medicinal properties, especially for anxiety, stress, and pain management.
There are two unique hybrid strains that The Bellamy Brothers and Trulieve developed; Reggae Cowboy and Big Love. Reggae Cowboy flower has a light purple hue with green highlights and a mild sedating experience. Big Love flower features vibrant purple and bright green hues and can provide uplifting and euphoric psychoactive effects. You can also get both strains in convenient pre rolls.
Mike Tyson
Recently, boxing star Mike Tyson opened up about his struggle with substance abuse and how marijuana helped him recover. He strongly believes marijuana to be a powerful solution to opiate addiction, which encouraged him to start his own cannabis business Tyson Ranch. The brand carries premium-quality cannabis flowers to help consumers attain the plant's medicinal benefits.
Mike Tyson's cannabis brand packs a punch (pun intended) with some strains well above the 30% THC content level. And Mikes Bites (edible gummies) might make everyone smile. Except for Evander Holyfield. Just kidding! In fact, Evander Holyfield is a business partner and helped launch the product.
Seth Rogen
Another famous weed smoker is actor and director Seth Rogen, who has produced several films related to marijuana. Not surprisingly, he is a cannabis advocate in real life and has successfully launched his cannabis company, Houseplant, which is a collaborative venture with Canopy Growth.
For Rogen, his brand is not just about selling cannabis but also about educating the world about the benefits of this powerful plant. Their company platform has a variety of helpful videos and tons of information about the history of marijuana and ways to use it responsibly. And, of course, it is entertaining because that's what Seth Rogen is all about.
Not only has Seth Rogen developed his own celebrity cannabis brand, but he discovered a new hobby during the Covid-19 pandemic. When he decided to stay home with his family and social distance, he learned how to make pottery. Now, House Plant also provides hand-crafted accessories for cannabis users.
Houseplant Popular Cannabis Products
Seth Rogen's cannabis brand includes flower and pre rolls. He has curated Sativa, Indica, and hybrid strains. Aside from providing premium quality cannabis, medical and recreational users love the packaging.
Martha Stewart
She might be famous for her cooking and homemaking, but Martha Stewart also owns her new line of CBD wellness products. And she got a little help developing her brand from her close friend Snoop Dogg, who introduced her to Canopy Growth.
Like Snoop and Seth, her brand was created through one of the world's leading cannabis giants, Canopy Growth. Stewart's brand features a range of products, including CBD oil, CBD gummies, soft gels, and even CBD for pets.
Martha Stewart CBD Products
Made with US-grown 100% pure hemp, Martha Stewart's products were first introduced in the market in September 2020. People can try her tinctures, soft gel capsules, or cannabidiol gummies, as they are sold nationwide.
Jay-Z
In July 2019, Jay-Z collaborated with a California cannabis company called Caliva to create a luxury line of cannabis pre-rolls, cannabis flowers, and a 1.5 "OG Handroll." The Jay-Z cannabis brand is Monogram, and the products carry a hefty price tag, where hand-rolls go over $50, including California's high tax rates.
Jay-Z didn't just collaborate with Caliva, though; he assumed the role of brand strategist. And that means every step of the way, the entrepreneur (he owns several brands like Aces of Spades and D'Ussé) was involved in the creation process.
Everything about Monogram is high-end. It's been described as cannabis for special occasions, similar to buying a very expensive bottle of champagne to celebrate. A pre roll can cost you $50, which is definitely pricey.
Despite premium pricing, many people gave the brand good reviews. The Monogram products target those looking to indulge in a luxury cannabis experience.
Monogram Popular Cannabis Products
DeAndre "De" Watson is a famous veteran cannabis cultivator. Watson is responsible for Monogram's cannabis strains named No. 88, No. 96, No. 70, and No. 01. The flower and pre roll is indicated in terms of potency by light, medium, and heavy.
Wiz Khalifa
Among our list of celebrity cannabis brands is yet another famous rap artist, Wiz Khalifa, who co-created his cannabis line with RiverRock Cannabis. Although the formula is confidential, his product Khalifa Kush has a lemony taste and can be found at different retail shops and dispensaries. The star also collaborated with RAW Rolling Papers to introduce his line of rolling accessories.
Khalifa Kush Top Selling Products
Back in 2010, Khalifa Kush was a strain developed exclusively for Wiz Khalifa. It was his exclusive private stash, and no one could get it (aside from family or friends). Now anyone can "smoke what Wiz smokes," which is one of the logos of the brand. Wiz Khalifa has a second strain called Khalifa Mints, crossed with menthol flavoring.
Chelsea Handler
Famous activist and comedian Chelsea Handler started her endeavor when she began working with NorCal Cannabis, one of the biggest operators based in California. Her brand includes three different vape lines and an edible brand, all designed with women in mind. Handler is not only an unapologetic feminist but also a supporter of full cannabis legalization. She aims to use her cannabis line to promote not only the medical benefits of marijuana but also celebrate women.
The motivation behind Handler's line also lies in her personal experience with the cannabis plant. She shared that marijuana helped her get off sleeping pills and has now become part of her general wellness routine. She specifically wants to educate women about the potential benefits of cannabis, and her line promotes responsible micro-dosing. Her line was established in January 2021 and featured cannabis-infused drinks, chocolates, pre-rolls, and a beauty mask.
Cannabis Beverages and Evolution Kits by Chelsea Handler
Chelsea Handler isn't just a funny girl; she loves to have fun. So it wasn't surprising to see her develop her own brand of cannabis beverages. In November 2022, Handler announced her partnership with Leisuretown to create CBD and THC-infused low-carb seltzer alcohol-free social beverages.
Handler released a special "America is Back Kit," which was a curated collection of her favorite brands. The kit included CANN beverages, pre rolls from Pure Beauty, Garden Society chocolates, and more. The proceeds benefited a charity called "Cage Free Repair," which is a cannabis reform nonprofit organization that helps right wrongs committed by the "War on Drugs."
Cannabis enthusiast Chelsea Handler has teamed up with dispensaries Sweet Flower and The Apothecarium to launch the "America is Back Kit," a curated mix of her favorite brands and items, in celebration of President-elect Joe Biden's inauguration.
Willie Nelson
The legendary actor, writer, activist, and country musician Willie Nelson launched his celebrity cannabis brand in 2015 called Willie's Reserve in Washington. This marijuana company sources the plant from independent farmers in the US to produce various products, including edibles, vape cartridges, and edibles.
Nelson revealed on the Jimmy Fallon Show that he is the primary tester of his company's products for quality assurance. If anyone would know good cannabis, it's probably Willie Nelson.
Willie's Reserve Cannabis Products
Many people would buy Willie's Reserve pre rolls just to get the collector tin provided in the "High Five" pack. Eight and quarters of Willie's Reserve come in glass jars, and the brand also includes vape carts and edibles.
Kristen Bell
Famous actress Kristen Bell joined Lord Jones, a reputable name and industry mogul in the world of CBD. Together, they launched Happy Dance, which focuses on CBD-infused skincare products. Bell shared that she used Lord Jones' CBD products religiously for two years, after which she decided to invest in her brand.
Bell's primary focus lies in providing integrity, quality, and consistency throughout her products. Her line contains hemp-derived CBD, and she aimed to explore the self-care side of the cannabis plant. Furthermore, Bell made conscious efforts to ensure that her skincare line was affordable.
Why Get a Medical Marijuana Card?
If you spotted one of your favorite celebrities on the list and would like to try their cannabis strains, you might want to get a medical marijuana card. People with MMJ cards in Florida access a variety of benefits. With an MMJ card, you can access various strains, products, and professional support. In Florida, you can only use marijuana for medical reasons with the help of a valid medical card.
Established in 2016, DocMJ boasts Florida's largest and most experienced group of certified Medical Marijuana doctors who can give recommendations to qualified patients. We also help patients apply for medical cards online through a simplified application process. Our services extend beyond Florida, all the way to Texas and Ohio.
If you have any queries or concerns related to our services or require guidance with the application procedure for your medical marijuana card, feel free to contact us, and we will be more than glad to help you!
Aaron Bloom serves as the CEO, overseeing the mission and growth of DocMJ. Aaron's passion for improving patient's lives comes from his background in health care. For more than 20 years Aaron owned, operated, and represented traditional health care organizations. This experience created a passion for finding improved ways to relieve suffering. His goal as CEO is to work hard every day to bring relief to all patients who seek better health and wellness through the medicinal benefits of medical cannabis and evidence based alternative medicines.