Does Marijuana Make You Lazy?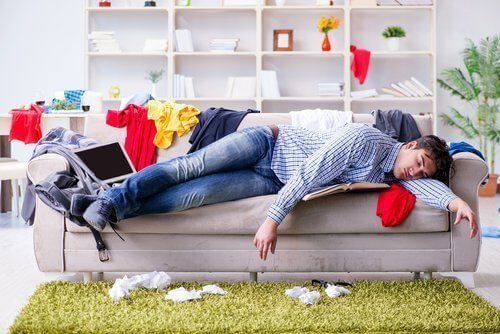 Does Marijuana Make You Lazy?
Let's face it. There exists a stereotype about people who smoke marijuana. They're potato chip-eating couch dwellers who would rather veg out than create art, work hard, or exercise. But try telling that to Oprah Winfrey, Steve Jobs, or President Obama [1]! Many studies have shown the opposite is true, including one recently published in the journal Frontiers in Public Health that debunks the "stoner" myth by proving marijuana increases the motivation to exercise [2]!
If you would like to know if medical marijuana (MMJ) is right for you, schedule an exam with one of our Florida Marijuana Doctors. You may complete our eligibility survey in just 5 minutes to find out if you pre-qualify for a recommendation.
Cannabis Removes the Barriers to Exercise
A scientific study recently conducted out of the University of Colorado (UC) tested 600 participants to see whether cannabis helped them overcome the barriers to exercise before, during, and after workouts. Prior to the study, 81.7 percent of participants were in support of using cannabis when exercising. The result? Published in the journal Frontiers in Public Health the study found a majority enjoyed working out more than before, to the point they exercised more and saw improved recovery afterward [3]!
Nearly 500 participants concluded it is beneficial to use cannabis from between one hour before and four hours after exercise. Compared with consumers who did not use cannabis while exercising, the study group found themselves working out longer by an average of 45 minutes of aerobic exercise and 30 minutes of anaerobic exercise! In addition, 70% agree "cannabis increases enjoyment of exercise," 78 percent that it "enhances recovery from exercise" and 50 percent that it "increases motivation" [4].
Researchers have identified three major reasons people struggle to exercise: not enough motivation, a dislike for the activity, and difficulty recovering from workouts. Marijuana use is increasing among those who want to remove these barriers to a healthy lifestyle. The UC study is among the first to analyze behavior and attitudes about people who pair cannabis use with exercise compared to those who do not, and it is fracturing the stoner stereotype [4].
34-year-old Tyler Browne of the San Francisco Bay Area could not agree more. In a recent interview, he told "Market Watch" he uses a cannabis vaporizer after lifting weights to help him recover because, after serving in the Marines, his body isn't the same as it used to be. He feels cannabis makes intense exercises less boring and said, "It makes cardio seem more like a fun childhood activity, with your mind wandering versus focusing on the strenuous portion of it" [5].
Marijuana Supports Healthy Weight Management
Another study published in a March 2019 issue of the International Journal of Epidemiology compared the body mass index of participants who used cannabis to that of those who did not. Researchers at Michigan State University studied the responses from 33,000 U.S. citizens aged 18 and up over a four year period. They pulled from a nationally represented, cross-sectional sample in categories of those who had discontinued use of cannabis, those who were new to using it, and those who had never used it. They found that marijuana users gained less weight over time and have gone as far as saying "cannabis may be a better option for weight loss than surgery or pharmaceuticals" [6]!
Marijuana Use by U.S. Presidents and Olympic Athletes
George Washington, the father of the United States, grew cannabis with a preference on plants containing higher THC levels. President John F. Kennedy used marijuana as a remedy for excruciating back pain during the entirety of his presidency. Michael Phelps, winner of more gold medals than anyone in Olympic history, smoked marijuana before and after each game. Yet no one would describe these famous celebrities as lazy. While some research suggests marijuana can make people lazy, it isn't because people are unable to rise to occasions, but perhaps because they lack the motivation to do so. Put simply, bad habits like poor time management, planning to exercise, and watching too much television can lead to a lack of motivation. There are many lazy people who don't use marijuana at all, so it is important to consider a persons' lifestyle habits before assuming cannabis has caused them to be lazy [7].
Sativas and Indicas: Why Strains Matter
Medical marijuana doctors recommend their patients use strains of Cannabis Sativa, Cannabis Indica, or a hybrid of each marijuana plant depending on the condition being treated. There are some differences to these two types of marijuana. Sativa plants are usually tall and skinny, while Indica plants are short and stocky. Also, Sativas act as an "upper" in terms of energy and mood, while Indicas help with sleep and relaxation [8]. However, due to underground crossbreeding, almost all strains are a hybrid form of the two types. As such, marijuana strains are better described as being Indica-Dominant or Sativa-Dominant [9].
Choosing the right strain is a highly important factor to treatment, because while some strains may induce the ability to sit on the couch and relax, others provide the right motivation and energy for the task at hand. There is not a one-size-fits-all approach to choosing the right strain. What works well for one person might be the opposite for another, but generally speaking, a Sativa-Dominant strain is best suited for those who wish to combine their use of marijuana with exercise [9].
Is medical marijuana right for me?
If you feel you may benefit from a Florida medical marijuana recommendation, the first step is to take our eligibility survey. In just 5 minutes, you could pre-qualify for a recommendation. A Florida Marijuana Doctor can then determine if you qualify during an in-person exam. For more information, visit https://docmj.com.

Resources
https://prohbtd.com/myth-3-cannabis-makes-you-lazy

https://www.marijuanamoment.net/study-finds-marijuana-motivates-people-to-exercise-smashing-lazy-stoner-stereotype/

https://www.surterra.com/blog/science/new-cannabis-study-will-make-you-question-the-lazy-stoner-stereotype/

https://www.marijuanamoment.net/study-finds-marijuana-motivates-people-to-exercise-smashing-lazy-stoner-stereotype/

https://www.marketwatch.com/story/cannabis-users-who-mix-weed-and-tend-to-workouts-exercise-more-2019-05-01