Double Amputee Says DocMJ & Medical Cannabis Has Made Life Better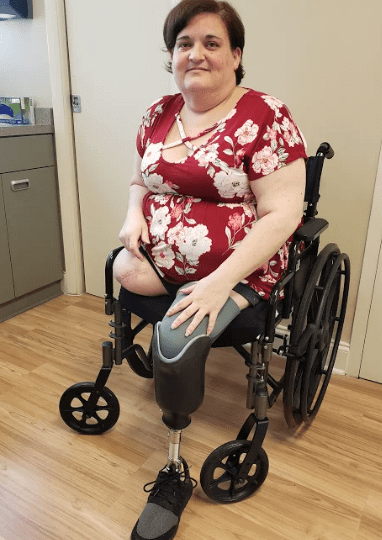 Living with debilitating and chronic illnesses makes a person's day-to-day life very challenging. It can affect their work, relationships, and overall health both physically and mentally. Up until a few years ago, when Floridians searched for help with their chronic conditions they were directed to a physician who would prescribe different medications, such as narcotics, to obtain relief; however, most prescriptions come with a lot of side effects that can affect a person's life even worse than the condition itself. Then in 2016, everything changed when Florida announced their Medical Marijuana program.
Finally, suffering people are able to find a natural alternative to prescription medications. Judy, a patient of DocMJ, opened up to tell the story behind why she chose medical cannabis and how much it has impacted her life for the better.
What condition do you have that allowed you to qualify for medical cannabis?
Fibromyalgia, anxiety, depression, insomnia
How were you managing/treating your symptoms beforehand?
Before medical marijuana I control my symptoms by taking various medicines. I had a bag full of meds.
How long have you been a medical cannabis patient and what made you decide to finally try it out?
I've been a patient for about 8 months now. I decided to try it to see if I could replace my meds with marijuana.
In the beginning of your medical cannabis journey, what struggles did you experience? i.e. finding the correct dose, your preferred intake method, not knowing about the products, etc.
At first, I struggled with finding what intake worked best for me. I also tried a lot of stains until I found which ones worked best to control my symptoms.
Was there a moment in particular when you realized it was working for you?
At the beginning of the year I became a double amputee. Obviously, I had a hard time adjusting as it happened over night. I went into a deep depression and didn't want to leave my house because it gave me major anxiety (people stare). After a couple of months, I had to go to the mall to get a few things. I had such anxiety getting dressed to go. I decided to medicate before leaving hoping it would lessen my anxiety. I was able to go to the mall and get what I needed and didn't really have that much anxiety. My friend and I actually walked around (well she walked I pushed myself in my wheelchair lol) and I had a great day.
How has your life changed for the better since being a medical cannabis patient?
My life has been a lot better since becoming a medical cannabis patient. I've been able to stop anxiety medications, muscle relaxers, and some of my sleeping meds.
Have you been able to stop any prescription medications?
I have stopped taking 3 different meds and hoping that I can get off more in the future. If I can replace them with this natural method of taking meds I'm all for it.
What made you decide to be open and share your cannabis experience?
I decided to share my story in hopes that it will help somebody else that is taking a lot of meds make the decision to change to medical cannabis.
And, of course, what do you love most about being a DocMJ patient?
I love everything about being a DocMJ patient! It's very easy to sign up online. You give 2 different options to pay. When you go to the appointment to see the doctor the office is clean, the staff is very nice and professional, and the doctor is always welcoming. I would and do refer DocMJ to everybody! You guys are awesome!
If you are interested to see if your life can be changed for the better with medical cannabis like Julie's, take the first step by completing our quick and easy eligibility survey. This will allow you to see if you pre-qualify for a Florida medical marijuana recommendation by one of our knowledgeable and compassionate Florida MMJ physicians.