Holiday Buying Guide for the Stoner In Your Life
As the holiday season inches closer, you may be making your list (and checking it twice) for family members or friends who are fans of the healing herb. People can sometimes be hard to buy gifts for, but if you have someone on your list who uses cannabis regularly, there are many easy and affordable gift ideas to choose from.
The best place to shop for dank stoner gifts is online. In some cases, you can even order the item as a gift and have it wrapped with the price concealed and delivered to the recipient's home. Talk about convenience, especially if you hate wrapping presents. And if you order early enough, you can count on the gift being delivered just in time for the holidays.
Struggling to think of creative-themed and practical weed gifts to buy for your tribe this holiday season? Here are our suggestions to use as a quick guide to get a jump start on your holiday shopping!
Cool Gift Ideas for the Cannabis Enthusiast
Shopping for weed gifts is easier than it may seem because weed smokers' needs are easier to satisfy than trying to figure out what to buy your parents this year. Stoner-friendly gifts can include essential supplies like rolling papers, novelty glassware, treats to satisfy when the munchies hit, or comfy t-shirts or clothing.
Our holiday buying guide has ten cool suggestions to help you get started:
1. Canna Jammies
Sure, pajamas are not the most original gift to give for the holiday season, but canna jammies are on a whole different level. If you have a stoner friend who plans to 'staycation,' pack a pipe and enjoy all the chill, what could be better than soft, comfy jammies?
Cafe Express has some of the funniest novelty cannabis pajamas out there. Check out this holiday-themed set for men or the "Happiness Does Grows On Trees" pajamas for women.
2. Cannabis Subscription Box
This may be the perfect gift for your stoner pal. You can choose one month or more for a surprise box full of goodies that any cannabis enthusiast would love. Typically, subscription boxes contain pipes, mini bongs, rolling papers, novelty grinders, and other essentials.
Check out "The Baked Beauty Box" from Cratejoy or the "Boba Tea" inspired gift crate from Cannabox, tailored for women. The Daily High Club has some great novelty cannabis gift ideas, too. Who said bongs had to be boring?
3. Smell Proof Stash Jars
Now that medical and recreational cannabis are legalized in most states, hiding evidence of cannabis use at home is less of a concern. However, you may still want to be discreet about using medical cannabis when your Mom comes to visit.
Smell-proof stash jars are always appreciated, particularly by people who use two or more strains on a regular basis. You can get a decorative stash box as a gift to allow friends or family to store their secret stash in plain sight.
Some of them even have combination locks for extra safety, like this one from herb & mary, which is available on Amazon. It is more of an apothecarry case (pun intended), where you can also store supplies such as cleaning solutions and brushes, a grinder, a small rolling tray, and more.
There are also smell-proof bags that help preserve the sticky moistness of leftover bud. They are an affordable alternative, like a stoner stocking stuffer, that works just as well. Remember to choose cannabis storage bags that have a tint. Transparent bags can cause THC and other cannabinoid content to become compromised and lower potency when exposed to heat or sunlight.
4. DIY Edible Kits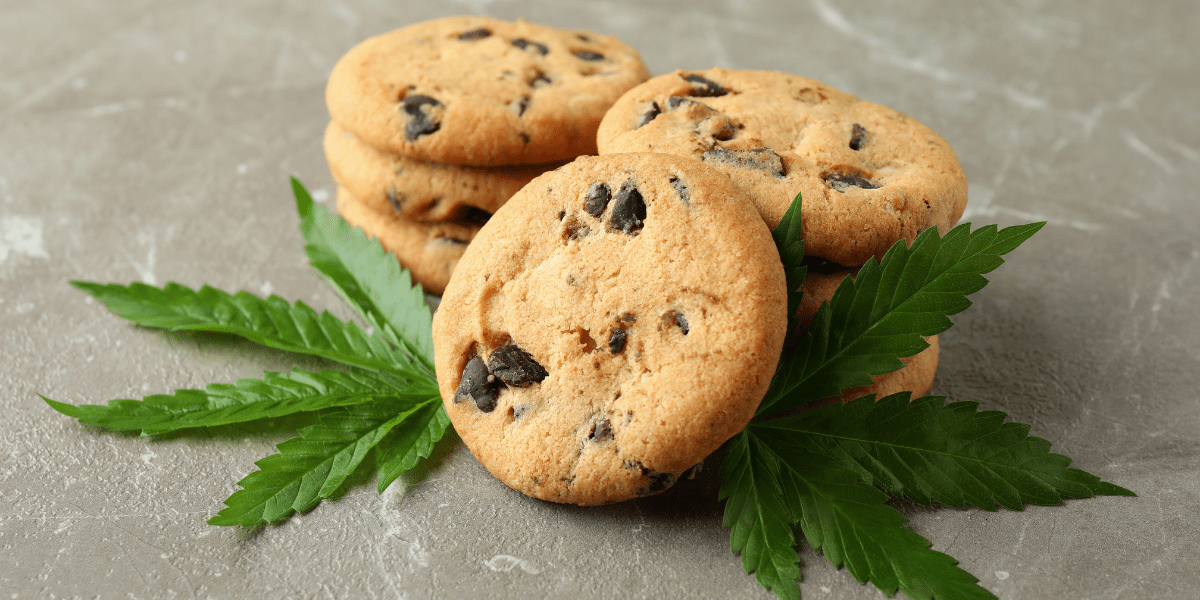 Many people prefer edibles, especially those that have a chronic sweet tooth. Buying edibles at a dispensary is the easiest choice, but if you can't find the flavors or potency you want, you can also use an edibles set to create your own at home.
They make a great gift for anyone who likes to spend time in the kitchen. Typical edible kits include silicon forms (non-stick molds in different shapes), gelatin, and supplies to create your own gummies.
There are so many different types to choose from now. Some are instant bake powders, where you can add your own decarboxylated flower to create cookies, cakes, chocolates, brownies, and more. Check out "This is Why I'm Broke" to get inspired with creative gifts your family or friends will enjoy.
5. Toker Poker
Smokable cannabis leaves a residue in the pipe, which you have to scrape out and clean before you pack your next bowl. If you are dabbing concentrates, that residue can be thick and hard to get out. The Toker Poker is a cheap gift that is priceless to people who use smokable cannabis. It holds your lighter and has a metal tool that makes cleaning out resin much easier.
At an average price of $14, taxes included, it is not only the kind of gift that keeps giving (daily) but also affordable enough to give to many people on your holiday shopping list. Explore all the creative designs on the "Toker Poker" website.
6. Cannabis Board Games
Cannabis can be something you do alone. But if you have other friends who socially toke, a cannabis board game can be a lot of fun. And unsurprisingly, there are many different games to enjoy. From the classic card game "Puff Puff Pass" to the "Stoner City" board game (which plays similar to Monopoly), there are many fun games that would be great holiday gifts.
7. Creative Herb Grinders
You can shop for smoking accessories with creative designs. Most of the products are unlicensed, especially when you see major brand-themed grinders, like the Star Wars DeathStar or the cute BB8 Droid; you can find a
If you are looking for something that is less novelty-based and more about performance (and catching every valuable grain of kief), check out his list of the best weed grinders of 2023 from Wire Cutter.
8. Electric Herb Vaporizers With Scent Filters
Glassware used for smoking flower is not very portable. There are some types, such as chillums, that are single-use, but generally, not many people want to walk around with breakable glass in their pocket or bag.
Electric herb vaporizers are a great solution to that problem. Not only are they portable, but most models have advanced temperature settings so that you can customize your incineration and draw. The unmistakable scent of cannabis still makes them a little inconvenient, however.
Now, there are electric herb vaporizers that have scent filters. They don't entirely eliminate the smell of incinerated bud; however, they significantly reduce the telltale scent. Check out this guide from "Puff It Up" to see new models with scent filters, which may make the perfect gift.
9. Customized Rolling Tray
Just about every friend possibly uses a cannabis rolling tray. Even if they don't make their own cones or pre-rolls, a tray placed on a coffee table helps keep everything neat when you are grinding flower. Let's be honest: Cannabis is not known for enhancing reflex skills, but an excellent rolling tray can help you reduce the mess and any wasted flower.
Etsy is a great place to shop for unique, creative, and customized rolling trays. Plus, you will be helping an American entrepreneur build their business, which feels good from a grassroots perspective.
Check out some of these cool options on Etsy:
With all the high-tech accouterments available for using smokable cannabis, the lowest-tech essential is a rolling tray. It is also the least risky gift to send by mail; it doesn't technically count as paraphernalia because it is just a tray.
10. Fancy Snacks for When the Munchies Hit
Chips and popcorn, cereal, or possibly an urgent DoorDash request to your local Whataburger or Smash Burger location. When the munchies hit, it is hard to resist snacking on something tasty. For many people, food flavors are even more delicious when you are high or even nursing a small bud buzz.
You can send a snack box subscription or one for a single month. Imagine how happy your best buds will be to open a variety package of uncommon snacks, like this Bokksu Snack Box full of interesting and tasty Japanese snacks.
On Etsy, there is a huge variety of snack boxes, like the Chamoy Pickle Kit or healthy snacks from Boost Box, and giant snackable assortments from "Just the Snacks." The freeze-dried candy on Etsy may also be worth buying and trying. Treat yourself!
What Kind of Gifts Are Safe to Ship to Your Bud Buddy?
If you are purchasing gifts to make a box of goodies to send to your friend or family member, consider that drug paraphernalia is still federally illegal to buy or possess. It can be confusing because you see pipes, bongs, grinders, and other types of tools sold everywhere, from tobacco shops to local convenience stores.
Whenever you personally place a gift in the mail, you must make sure that it does not contain THC. The United States Postal Service may ship cannabidiol (CBD oil or edible) products that meet the federal limit of 0.30% THC or less without problems.
Some of the best gifts can be ordered online and fulfilled by the company selling the product, whether it is an individual item or a gift box or crate.
Shipping These Gifts Could Get You Into Trouble
Thinking about sending Delta-THC edibles, moon rocks, or other products that may have more than 0.30% THC content? Don't do it. Many states have banned synthetic and semi-synthetic cannabinoids, and shipping them could get you into some legal trouble.
Make sure you check the laws for compliance before shipping any holiday gifts to loved ones.
Just a bud, buddy
I am a Chief Marketing Officer at DocMJ, a leading provider of medical cannabis health services to qualified patients. I have over 20 years of experience in healthcare marketing and communications, with a proven track record of delivering impactful and compliant campaigns that educate, inform, and empower patients to make better choices for their health and wellness.