How Does Ohio Medical Marijuana Compare to Other Medical States?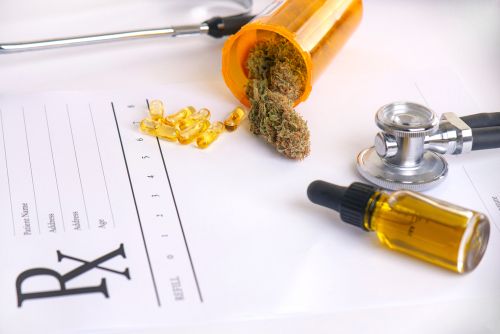 Medical marijuana is legal in thirty-three states (and DC), meaning that a majority of the country now has access to it. However, not all states have passed the same laws. Some states have regulations on the amount of marijuana a patient can have at once and other states allow them to grow their own marijuana plants. These differences are important to know and understand especially if you or a loved one are moving or traveling across state lines.
Do you live in Ohio and have any questions about medical marijuana or obtaining an Ohio medical marijuana card? The team at DocMJ is here to help! Speak with an experienced Medical Marijuana Patient Care Coordinator at (877) 899.3626 for more information, or take our easy, online eligibility survey to see if you pre-qualify for an Ohio medical marijuana recommendation today!
Medical Marijuana in Ohio
Medical marijuana was legalized in Ohio in 2016 with the passing of House Bill 523. The bill was approved by a 71-26 majority in the House and an 18-15 majority in the Senate with Governor John Kasich signing it into law on June eighth of that year. The bill outlined the roles of the Ohio Board of Pharmacy, the Ohio Department of Commerce, and the State Medical Board of Ohio in the newly formed medical marijuana program [1]. The Department of Commerce and State Board of Pharmacy then formed the Ohio Medical Marijuana Control Program and the Medical Marijuana Advisory Committee for the first five years of the OMMCP's existence. From this, all of the current rules and regulations regarding medical marijuana in Ohio have been determined.
Medical marijuana comes in many forms, several of which have been legalized in Ohio. These forms are oils, tinctures, plant material, edibles, and patches. Importantly, while plant material can legally be vaporized, smoking by combustion is not allowed. The law explicitly states that no forms are to be made available that are attractive to children. That does not mean that children cannot be recommended medical marijuana, however, though the parent or guardian must first consent to the treatment.
Once a medical marijuana card is obtained, the patient can obtain medical marijuana from any in-state dispensary licensed by the Board of Pharmacy. Dispensaries are allowed to carry a range of products with different cannabinoid concentrations, from high to low THC and CBD. The patient is allowed to have up to a ninety-day supply of marijuana and the patient's registration will last up to one year from issuance.
Medical Marijuana in Other States
As you might expect, other states handle things differently. This can be due to many factors, from differences in the state's beliefs regarding marijuana to the time it was made legal. For example, California was the first state to legalize marijuana in any form. They did it a little differently, however, starting with removing criminal penalties on the use and cultivation of marijuana by those with a physician's recommendation. This was later amended by Senate Bill 420, which specified how much marijuana patients can grow and hold at a time. Currently, medical marijuana patients in California can possess up to eight ounces of dried marijuana and six mature plants.
This is one of the biggest differences in medical marijuana laws by state, their allowance of home-grown marijuana. Many states have legalized personal growth of marijuana, including New Mexico, Washington, and Montana. Many others, however, have not crossed this line, preferring to keep things on a tighter leash. These states include Ohio, Florida, and Connecticut. The reasoning behind these decisions again vary, with supporters touting the affordability, convenience, and theoretically infinite supply (not to mention the possible therapeutic benefits of gardening overall). Those against home-grown marijuana chiefly cite the possibility of misuse and the ease with which the law could be circumvented.
The qualifying conditions to receive a medical marijuana recommendation, unlike other aspects of the law, are overall surprisingly uniform across states, with most allowing access to patients diagnosed with a range of illnesses and conditions. Cancer, for example, is listed in every state, and for good reason. CINV is an extremely common side effect of chemotherapy, and marijuana has been found to help patients reduce both their nausea and urge to vomit [2]. It is clear that research and medical understanding is very important to lawmakers and voters alike, as most states require scientific evidence to back up claims of benefits for patients, similarly to Ohio.
Another slight difference between states is what marijuana (or hemp) products a recommendation gets a patient access to. In states like Ohio, a dispensary can sell several products all with a range of cannabinoid concentrations. Meaning you can buy high THC plant matter or high CBD edibles. In other states, though, there are stricter limits on what can be bought. Some states only allow certain extracts while others allow nearly all forms. Ohio is somewhere in the middle, allowing many different forms, but placing a limit on the ways they can be ingested. Smoking, as we previously found, is prohibited in Ohio, but was also banned in Florida due to it being linked to negative health effects [3].
In some states, the law is even murkier. Patients may have access to certain marijuana extracts, but only in very controlled cases. Kentucky, for example, people can access hemp-derived CBD oil. This allows them to use CBD to fight inflammation, anxiety, and other problems [4]. While Kentucky is not a legal medical marijuana state, there is still some access to its benefits.
In Conclusion
Overall, Ohio is very progressive when it comes to medical marijuana access. There are many scientifically backed qualifying conditions and the OMMCP allows for new qualifying conditions, forms, and methods of applications to be submitted and reviewed. Other states allow for growing marijuana plants, though there is still some debate over the logistics and overall efficacy of home-grown marijuana compared to that certified by a state-run program. Ohio also offers a wide variety of extracts and forms, lowering the barrier for use for those with disabilities or other conditions. While Ohio is not as lax as some other states, there is a benefit to a more controlled rollout and allowing the science to catch up to public opinion.
Cited Works
[1] https://www.legislature.ohio.gov/legislation/legislation-summary?id=GA131-HB-523
[2] https://www.ncbi.nlm.nih.gov/pubmed/11606489/
[3] https://www.ncbi.nlm.nih.gov/pubmed/23802821
[4] https://www.ncbi.nlm.nih.gov/pmc/articles/PMC5938896/