How to Get a Medical Marijuana Card in Akron Ohio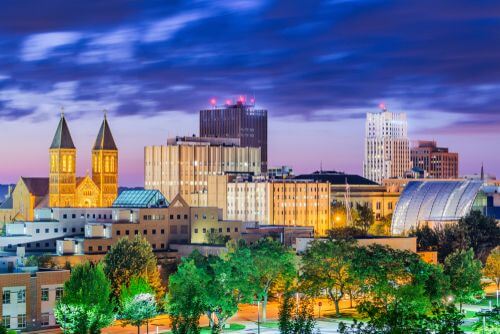 Get Approved for Medical Marijuana in Akron Today
Getting approved for medical marijuana in Akron is now easier than ever and our team is here to tell you how you can get your Ohio medical marijuana card today! In light of the COVID-19 pandemic the State Medical Board of Ohio is allowing medical marijuana evaluations to be completed from home through Telemedicine. All you need is a computer, tablet or smartphone. To learn more about Telemedicine check out our blog Ohio Allows Telemedicine For Medical Marijuana During Coronavirus 2020. Ready to book your appointment with one of our certified Ohio medical marijuana doctors? Click here to schedule your Telemedicine appointment or visit us on the web at DocMJ.com and click the 'BOOK NOW!' tab. You may also schedule your appointment over the phone with a DocMJ Patient Care Coordinator at (877) 899.3626.
Qualifying Conditions for a Medical Marijuana Card in Akron
If you live in or near Akron and have been diagnosed with one of the following medical conditions you may be eligible for a medical marijuana recommendation:
AIDS
Amyotrophic Lateral Sclerosis (ALS)
Alzheimer's disease
Cachexia
Cancer
Chronic Traumatic Encephalopathy
Crohn's disease
Epilepsy or another seizure disorder
Fibromyalgia
Glaucoma
Hepatitis C
Inflammatory Bowel disease
Multiple Sclerosis 
Pain that is either chronic and severe or intractable
Parkinson's disease
Post-Traumatic Stress Disorder (PTSD) 
Sickle Cell Anemia 
Spinal cord disease or injury
Tourette's syndrome
Traumatic brain injury 
Ulcerative Colitis

Pre-Qualify for a Medical Marijuana Recommendation in Akron Instantly
If you're still unsure about whether or not you may qualify for a recommendation, you can find out instantly if you pre-qualify by taking our online eligibility survey. Click here to complete the survey or click 'Pre-Qualify Instantly' at DocMJ.com.
Where to Buy Medical Marijuana in Akron 
Medical marijuana dispensaries in the city of Akron include Bloom Medicinals, The Botanist, and Zen Leaf which is located nearby in Canton. For a full up-to-date list of dispensaries in surrounding cities be sure to check out our Ohio Dispensary List.

Affordable, All-Inclusive Pricing for Medical Marijuana Recommendations in Akron
At DocMJ we strive to bring affordable medical marijuana recommendations to qualifying patients across Ohio. This is why we let our patients choose from two all-inclusive pricing options: the Standard Plan and the Finance Plan. Both plans include:
Full Medical Cannabis Recommendation (Low-THC/CBD + High-THC)

Money-Back Guarantee If You Don't Receive Recommendation

Physician Renewals
We also offer a 10% discount to Veterans. For more information about our Veterans discount please call our office at (877) 899.3626. To learn more about our fees and pricing, check out our Pricing page at DocMJ.com.
DocMJ is Here for Akron Medical Marijuana Patients
Have questions about getting approved for a medical marijuana card in Akron? Don't hesitate to contact us! Our Patient Care Coordinators are available Monday-Friday from 9:00AM-5:00PM to provide assistance. To speak with a member of our team please call our office during normal business hours at (877) 899.3626 or email us at [email protected] Answers to general questions such as our refund policy and age requirements can be found on our FAQ page. Our physicians, Medical Assistants and Patient Care Coordinators are here to help our patients every step of the way! Start your journey to relief today with DocMJ!

Don't forget to check out our blog to stay up-to-date on Ohio medical marijuana news, laws, and other important information. We're also on Twitter, Instagram, and Facebook!