How to Talk About Medical Cannabis at Thanksgiving Dinner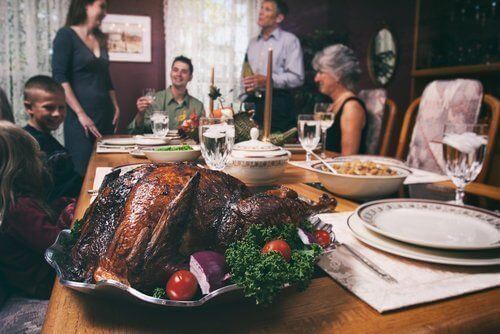 How to Talk About Medical Cannabis at Thanksgiving Dinner
If you find yourself wondering what to talk about at the Thanksgiving table, chances are that people are generally more comfortable discussing marijuana legalization today than in times past. Public opinion around this topic is changing rapidly because it has been covered widely in the media for several years now [1]. Survey data collected from U.S. adults between 1969 and 2018 show a drastic increase in the percentage of those who say marijuana should be made legal – from 12 percent to now 62 percent and counting [2]!
For general information about whether medical marijuana (MMJ) is right for you, schedule an exam with one of our Florida Medical Marijuana Doctors. You may complete our eligibility survey in just 5 minutes to find out if you pre-qualify for a recommendation.
Share the Facts Without Creating an Argument
Should anyone question your knowledge of marijuana facts, don't get defensive. While your views on the legalization of marijuana may be progressive in nature, most people don't like a "know-it-all" that doesn't consider both sides of the debate. Try to listen and understand where people are coming from because many have traditional views that stem from their upbringing during the "Just Say No" era, for example. Taking their views into account while sharing facts is key to getting your own points across, which just might calm and allay their fears. Steve Downing, former deputy chief of the Los Angeles Police Department once said, "The war on drugs was a failure. I should know as I once led it. Our policies have done more harm to people and community than marijuana. We demonize people. We unnecessarily criminalized people" [3].
The War on Drugs: A Social Justice Issue
The War on Drugs began as an initiative to stop the growth of drug supplies, but in fact, it created a profitable black market for criminal enterprises and drug cartels alike. One study calculated that marijuana alone brings in 20-30 percent of revenue for drug cartels. Hence, the legalization of marijuana means less criminal activity and fewer convicts. Unfortunately, the United States incarcerates more people than in any other country in the world. Hundreds of thousands are arrested for the possession of marijuana each year, and black Americans are almost four times as likely to be charged with the possession of marijuana than white Americans. This imposes a huge financial burden on the United States, but greater is the cost to social justice. Concerning these arrests, Washington D.C. Police Chief Cathy Lanier has said, "All those arrests do is make people hate us. . .Marijuana smokers are not going to attack and kill a cop. They just want to get a bag of chips and relax. Alcohol is a much bigger problem" [3].
Talk About the Benefits
As of this writing, 33 states and Washington D.C. have legalized marijuana to some degree. That means over half of states now recognize the effectiveness of marijuana to treat many ailments. Scientists all over the world continue to conduct in-depth clinical studies which prove the ability of marijuana to help with ailments such as cancer, epilepsy, AIDS, PMS, glaucoma, fibromyalgia, and more. Remind your family that our endocannabinoid system is designed specifically to respond to the chemical compounds found in cannabis. If they need more convincing, consider a talk about CBD. Most have heard of CBD – the chemical compound that doesn't contain psychoactive properties and therefore doesn't create the feeling of being high. There is no denying that CBD is therapeutic for pain, insomnia, inflammation, and epilepsy, to name a few. Specifically, the form of childhood epilepsy known as Dravet syndrome that is impossible to cure or control, is known to respond dramatically to "Charlotte's Web," a CBD-dominant strain of marijuana. For those curious about the benefits of marijuana, CBD is a great starter topic for gentle conversation [4].
Talk About Marijuana Use for Pain
The most common use of marijuana in the U.S. is for pain. Millions of Americans find relief, especially the aging, from their chronic pain while avoiding the overuse of unsafe opiates and other prescription drugs. There are no known cases of an overdose from marijuana use, and since marijuana is not addicting, it is quite obviously the safer alternative. Many who are sensitive to NSAIDs like Aleve or Advil due to issues with the kidneys, ulcers, or GERD find marijuana more effective and without side effects. Those with multiple sclerosis or general nerve pain have few options to remedy their pain and the prescribed opiates that do exist (i.e.: Lyrica and Neurontin) are highly sedating. These patients find that using marijuana allows them to perform activities they were previously disabled from without feeling disengaged and lethargic. Marijuana is a muscle relaxant that helps relieve the tremors experienced by those who suffer from Parkinson's disease, as well as pain from interstitial cystitis, fibromyalgia, endometriosis, and other conditions known to cause chronic pain. Many find success in managing nausea and weight loss with marijuana. Combat veterans find it helpful for managing their PTSD. HIV patients suffering from wasting syndrome and pain find relief through marijuana, as well as those with irritable bowel syndrome and Crohn's disease. While this is list is not meant to be exhaustive, it should provide many tips to share around the Thanksgiving table about the many benefits to marijuana. As with any medical claim, these statements should be "critically evaluated and treated with caution" [5].
Is Medical Marijuana Right for Me?
Whether medical marijuana will help your condition depends on many factors best evaluated by a medical doctor. If you feel you may benefit from medical marijuana, the first step is to take our eligibility survey. In just 5 minutes, you could pre-qualify for a recommendation. A Florida Medical Marijuana Doctor can then determine if you qualify during an in-person exam. For more information, visit https://docmj.com.