Is CBD in Florida Legal?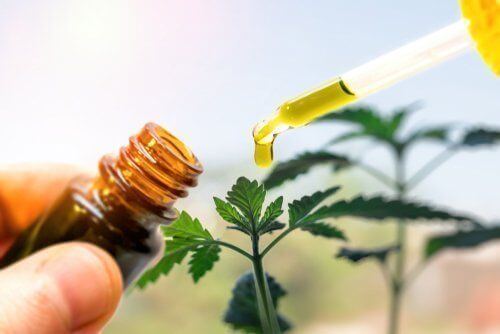 Medical marijuana is legal in Florida, giving people access to a new and exciting form of medicine. One of the chemical constituents of marijuana that has been getting considerable attention is CBD, which many will recognize from the signs and marquees advertising it even before medical marijuana took the spotlight. This has led many people to question when CBD extracts became legal in the first place, or if they even are legal today, strictly speaking. In this post, we will look at what CBD is and how it is viewed in the law.
If you are considering getting a medical marijuana recommendation, consider our Florida medical marijuana doctors! They are ready to help walk you through the recommendation process. Complete our online eligibility survey today to find out if you pre-qualify for a Florida medical marijuana recommendation.
What is CBD?
CBD is short for cannabidiol, one of the over one hundred phytocannabinoids found in marijuana. A phytocannabinoid is a cannabinoid that is found in marijuana, and a cannabinoid is a chemical that works cannabinoid receptors in the endocannabinoid system.
There are also cannabinoids your body naturally produces called endocannabinoids that also act on cannabinoid receptors.
To remember this, you can look at the prefixes of each word, phyto- meaning from plants, and endo- meaning within. Phyto cannabinoids are "from plants" and endocannabinoids are "from within".
Recently, CBD has been advertised for many uses. Some claim it can fight nausea, reduce pain, and even do more intangible things, like lower anxiety and increase virility. Many of these applications stem from how marijuana was used hundreds or thousands of years ago and modern research has been actively finding mechanisms and proof of these uses.
The research surrounding anxiety, for example, has increased exponentially. Researchers have found interactions between CBD and receptors known to help regulate fear and anxiety. They have shown that by introducing CBD into specific brain regions responsible for feelings of distress, CBD can cause anxiolytic effects. These effects have shown promise in those with certain disorders, including PTSD and OCD.
Another exciting avenue of research points to CBD as a potential therapeutic agent for those with chronic pain. In people with neuropathic pain specifically, CBD has been found to provide relief in double-blind studies. It is believed that some of this analgesic effect is caused by the anti-inflammatory properties of CBD and is especially relevant to those with arthritis and other auto-immune disorders.
Is CBD Legal in Florida?
The legality of CBD in many states is not very clear to the average person, and it's easy to see why. Florida has had a muddy history with marijuana, starting recently around 2014. In January of that year, the Florida Supreme Court approved a measure put forward by supporters of medical marijuana. The measure had collected over one hundred thousand signatures the previous year, triggering action by the FSC. The measure was then added to the 2014 ballot, but failed, receiving 57.6 percent of the vote, short of the necessary 60% supermajority.
Between the January 2014 Florida Supreme Court ruling and November vote, the Florida House of Representatives Budget Committee passed the "Charlotte's Web bill" which was later signed by governor Rick Scott [1]. The bill legalized strains of marijuana high in CBD and low in THC. This means that while marijuana strains that produce the high recreational marijuana is known for were still illegal, low THC variants could be legally obtained.
Later, in 2016, Amendment 2 was once again added to the November ballot. This time, the amendment passed with 71.3 percent of the vote, enough to bring it over the supermajority threshold.
This allowed patients with certain conditions to get a medical marijuana card and buy marijuana containing any THC content.
In 2018, President Trump signed the Farm Bill into law, which, among many other things, federally legalized hemp and reclassified it as an agricultural product [2]. This made hemp-derived CBD legal nationally, but many state laws had not yet caught up, causing a huge amount of confusion to both citizens and police. You may remember the story of the woman who had been arrested at Disney when CBD oil was found in her bag [3]. So, at this point, CBD could be legally bought by those with a medical marijuana card, but it was still illegal for those without a card. In fact, Nikki Fried said CBD was illegal still in 2019 [4].
However, in June 2019, Governor Ron DeSantis signed SB 1020, creating a state hemp program. The bill also said, "Hemp-derived cannabinoids, including, but not limited to, cannabidiol, are not controlled substances or adulterants" [5]. According to the bill, the changes took effect on July 1, 2019. Therefore, now, it seems hemp-derived CBD is now legal in Florida [6].
In Summary
Beginning in 2014, there has been a push for the legalization of both medal marijuana and marijuana products. Though this had failed to totally pass in Florida that year, an exception was made for low THC, high CBD products if recommended by a doctor. In 2016, full legalization of medical marijuana came into action, but without a medical marijuana card, CBD products were still banned. In 2018, hemp and hemp-derived CBD was nationally legalized, but state laws still lagged, and confusion grew. In 2019, a state hemp program was established and hemp-derivatives, including CBD, were made legal.
Always talk to a certified medical marijuana doctor if you have any concerns. If you are curious about the benefits of medical marijuana, we here at DocMJ are happy to help!
Resources
[1] https://www.tampabay.com/news/politics/stateroundup/gov-scott-signs-charlottes-web-marijuana-bill-into-law/2184590
[2] https://www.usatoday.com/story/news/2018/12/21/hemp-cbd-farm-bill-signing-trump-delaware-agriculture/2387656002/
[3] https://www.foxnews.com/travel/grandmother-cbd-arrested-disney-world
[4] https://www.wlrn.org/post/cbd-legal-ag-commissioner-nikki-fried-says-no
[5] https://www.flsenate.gov/Session/Bill/2019/1020/BillText/er/PDF
[6] https://www.tampabay.com/opinion/columns/joe-henderson-the-sale-of-cbd-oil-will-soon-be-legal-in-florida-its-about-time-20190626/