Marijuana Edibles in Florida: Everything You Need to Know (Updated 09/04/2020)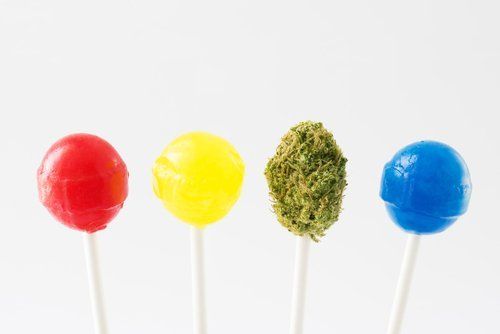 Updated September 4, 2020—EDIBLES: SALES NOW ALLOWED!
The wait is finally over—rules for edible sales in Florida have been released! On August 26, 2020, the Florida Department of Health officially issued production standards for THC-infused marijuana edibles. This means Florida MMTC's can now legally begin selling edibles.
While decorative cakes, colorful gummies, and nutty chocolates are off the table, marijuana edibles have finally been approved by Florida's Office of Medical Marijuana Use! These edibles must be in specific shapes (square, circle, rectangle, triangle, parallelogram, oval, or diamond) and they can only be in the form of lozenges, gelatin, baked goods, chocolates, and drink powders. Each individual serving can have a maximum of 10 milligrams, and the most milligrams allotted in a multi-serving edible can have a maximum of 20 milligrams.
None of the edible products are allowed to have any coloring to them, nor can they include any kind of toppings, icing, nougats, nuts, honeys, and other similar ingredients. They also cannot have any resemblance to an existing candy. Each edible must also be stamped with the universal "THC!" symbol to bring awareness that they are infused with medical cannabis.
To view the official production standards for marijuana edibles issued by the Florida Department of Health, click the link below:
https://s27415.pcdn.co/wp-content/uploads/2020/08/64ER20-33_Coded-Rule_Final.pdf

Marijuana Edibles in Florida
The State of Florida finally released the rules for edibles after nearly three years in the making. [1] These rules put in place a guideline that all Medical Marijuana Treatment Centers (MMTCs) must follow when producing and selling medical marijuana edibles.
In order to be able to legally purchase edibles in Florida, a person must first qualify for a medical marijuana recommendation from a state-certified qualified Florida Medical Marijuana Doctor.
What Are Marijuana Edibles?
Edible forms of cannabis, including food products, lozenges, and capsules, can produce effective, long-lasting, and safe effects. [2] Most edibles contain tetrahydrocannabinol (THC) but there are also CBD edibles available as well. THC-dominant edibles can be consumed for medical purposes and they can result in a wide range of side effects including relaxation, euphoria, increased appetite, fatigue, and anxiety. [2]
Currently, there are no pre-made edibles available at any Florida Medical Marijuana Treatment Center. Although some MMTC's have found ways around the restrictions. For example, Curaleaf has THC Tablets available in 5mg doses for oral consumption. [3] While these mint-like tablets are not technically edibles they are similar in concept.
Cannabis Edible Laws in Florida
Since the use of Medical Marijuana was legalized in Florida in 2016 there has never been any guidelines set for MMTC's in regards to edibles. Lawmakers have taken their time creating rules for dosing, size and shape, packaging, and processing. However, in December of 2019 and March 2020 they finally started making some movement. [1]
Now, current law places a limit on the amount of THC in edible products only, which may only contain 10 mg of THC per serving and 200 mg in total. The amendment places a cap on THC at 10% potency for patients under 21 years old, with exceptions for those who are terminally ill and for patients whose doctors can argue a case for medicine with higher amounts of THC
However, some legislators are not too thrilled about the THC cap. Senator Jeff Brandes (R) from St. Petersburg told the Miami Times: "Physicians understand much better than the Legislature what's best for their patient. Let's let doctors weigh benefits and risks for their patients.
Holly Bell, the director of the agriculture department's cannabis program, said that a major concern for regulators is to keep the products safe from allergy contagions and other impurities that could cause adverse effects.
"That's our concern because a lot of times the people taking the medical marijuana have compromised immune systems, so we want to especially be diligent and make sure they're safe." -Holly Bell
MMTC's Edibles Partnerships
In preparation for the allowance of edibles, most Medical Marijuana Treatment Centers have already partnered with companies throughout the United States to bring them into the Florida Market.
Trulieve announced in the summer of 2018 that it has partnered with Bhang, which boasts the "most-awarded line of cannabis chocolate bars on the planet," according to the company. Liberty Health Sciences announced in January of 2018 that they were partnering with incredibles™. [5]
Companies like Curaleaf, MedMen, and MUV are all established in states that already have guidelines in place for edibles so it is safe to assume that they will bring their existing partners into their dispensaries in Florida.
How Eating Edibles differs from Smoking Cannabis
The consumption of edibles is a discreet and simple way to get your dose of cannabis. For those who cannot tolerate smoke or do not wish to inhale cannabis, edibles offer patients a convenient way to stay on track of their cannabis regimen.
It might take a while to feel the full effects of an edible because the body has to break down the food in the stomach. This takes longer than it does when being absorbed by the lungs or skin and the side effects will last a lot longer. Generally, the effects of edibles can be felt for about 5-6 hours. This varies widely based on your individual biology, the dose, and the type of edible consumed. [2] The peak euphoric experience may only last 1-3 hours but may continue for much longer.
Always start with a low dose and slowly work your way up to avoid uncomfortably long and uncomfortably potent effects. Each person's response to a dose of an edible can vary significantly. The "standard dose" is considered 10 mg, but someone who is new to cannabis or a person with a low tolerance should start with half of that. Trial-and-error is an integral part of finding the perfect dose for a great experience.
Getting your MMJ Card to Legally Purchase Edibles
In order to be able to legally purchase edibles, a person must first qualify for a medical marijuana recommendation from a state-certified qualified Florida Medical Marijuana Doctor. Florida Senate Bill 8A defines a qualified patient as:
A resident of this state [Florida] who has been added to the medical marijuana use registry by a qualified physician to receive marijuana or a marijuana delivery device for a medical use and who has a qualified patient identification card.
To qualify for medical marijuana in Florida, a patient must be recommended by a certified physician because they have a condition that meets state requirements and have permanent or temporary Florida residency.[4]
The Qualifying Conditions are:
Cancer

Epilepsy

Glaucoma

HIV/AIDS

Post-traumatic stress disorder (PTSD)

Amyotrophic lateral sclerosis (ALS)

Crohn's disease

Parkinson's disease

Multiple sclerosis (MS)
Medical conditions of the same kind or class as or comparable to the others listed.

A terminal condition diagnosed by a physician other than the qualified physician issuing the physician certification.

Chronic nonmalignant pain caused by a qualifying medical condition or that originates from a qualifying medical condition and persists beyond the usual course of that qualifying medical condition.
Qualifying patients must also be able to provide proof of residency. To establish permanent Florida residency, patients must supply one of the following documents and a photo ID:
Copy of a house deed or lease agreement

Utility bill (no more than two months old)

State ID or driver's license

Passport
Senate Bill 8A also states that individuals who meet the definition of seasonal residents may qualify, as well. The term 'seasonal resident' is defined as any person who temporarily resides in this state [Florida] for a period of at least 31 consecutive days in each calendar year, maintains a temporary residence in this state, returns to the state or jurisdiction of his or her residence at least one time during each calendar year, and is registered to vote or pays income tax in another state or jurisdiction.
DocMJ Doctors Marijuana has locations throughout the state staffed with qualified medical marijuana recommending physicians. We offer appointments during the week, on weeknights, and even on weekends for the convenience of our patients. Take the pre-qualifying survey to see if Medical Marijuana can help you!
[1]https://www.flrules.org/gateway/RuleNo.asp?title=MEDICAL%20MARIJUANA%20TREATMENT%20CENTERS%20AND%20EDIBLES&ID=5K-11.001
[2] https://www.leafly.com/products/edibles#
[3] https://curaleaf.com/stores/pd/curaleaf-tampa-33604/capsules-aa8d/curtableth5mg-x-30-150mg-thc-curaleaf-fl-tampa/
[4] https://knowthefactsmmj.com/patients/
[5]https://www.prnewswire.com/news-releases/liberty-health-sciences-signs-exclusive-licensing-agreement-to-manufacture-and-distribute-incredibles-brand-cannabis-products-throughout-florida-669703443.html
[6[https://www.miamiherald.com/news/local/marijuana/article240226636.html