Marijuana Topicals: Why You Should Try Them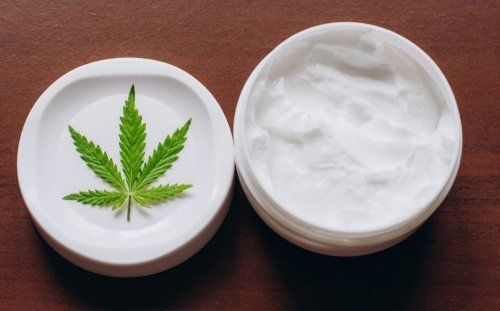 As science and technology move forward, the routes of medical marijuana administration are broadening. Not only do patients have the option of using tinctures, oils, distillates, suppositories, or capsules in addition to smoking or vaping marijuana, but there are topical alternatives as well. Do you feel you may benefit from medical marijuana? Take our online eligibility survey to see if you pre-qualify to become a Florida medical marijuana patient. At your appointment, speak with one of our Florida Medical Marijuana Doctors to discuss the best treatment options for your medical conditions.
The largest organ in our body is our skin, and it contains cannabinoid receptors that interact with the active chemicals in medical marijuana. Topical applications of marijuana can help with skin conditions, muscle aches, swelling, and sore joints. Topical routes are either rubbed directly into the skin, infused in bath water, or applied via an adhesive patch. One of the most significant benefits to applying compounds containing marijuana to your skin is this: since it is absorbed into the top layers of skin and doesn't enter the respiratory or digestive tract, there is virtually no risk of getting high. There are products that only contain CBD, as well as preparations with both THC and CBD. Ointments or creams also often contain other ingredients like capsaicin, menthol, wintergreen, clove, or lemongrass that also help with pain and inflammation. There are several options available including transdermal patches, lotions or creams, oils, sprays, lubes, and bath salts
What conditions do topicals treat?
Topicals work by binding to CB2 receptors in the skin as well as the tissue directly under the skin called the subdermal layer. This activates pain relieving, anti-inflammatory, and healing properties. Effects can be felt almost immediately or may take up to an hour; relief may last as long as 6-8 hours depending on the strength of the preparation, how much is used, and what else is in the product you're using that might help enhance the cannabinoids and terpenes making up the topical preparation. The results are more localized than the body-wide effect you may experience from smoking, vaping, or taking an edible.
You can use topical forms of marijuana to treat several conditions including the following:
Psoriasis, eczema, and other skin conditions

Shingles

Rashes

Itchy skin

Muscle pain

Aches and pains associated with muscle strain

Menstrual cramps

Arthritis

Swelling and soreness

Minor wounds

Acne

Cancer (especially types that cause skin lesions)

Burns

Insect bites

Bruises

Headaches, including migraines
Can you get high from using a topical preparation?
Because of the legal status of marijuana, research is rather spotty on this topic. Here is the basic consensus: Using creams, balms, lotions, or sprays will not cause a psychoactive effect. If raw plant matter is used, you will get the benefits of CBD and the terpenes present in the plant without any risk of getting high. Without the benefit of a carrier chemical like magnesium stearate, the cannabinoids will not cross into your bloodstream but instead be absorbed by the skin and subdermal tissue. Transdermal patches may have a significant enough influence on the THC level in the bloodstream to cause psychoactive effects if the dosage is high enough. Of course, this depends on if the product you are using contains unprocessed marijuana or if it's been decarboxylated (or heat treated to activate the THC).
Will using a topical application cause a positive drug test?
With the exception of a transdermal patch, topical routes do not cause an elevation of THC in the bloodstream. Here are some simple precautions to take when applying ointments or creams to prevent accidental exposure to THC that might affect drug test results:
Wear gloves.

After taking the gloves off, wash your hands thoroughly with soap and warm water.

Don't touch your mouth or eyes until you remove the gloves and wash up.
Lab results published in a scientific journal [2] showed no change in blood or urine THC levels with the use of topical preparations. It is important to remember, though, that because of how transdermal patches are made, it is possible for THC to enter the bloodstream and affect test results. To date there are no published studies providing specifics on what dose or frequency of use can cause this to happen.
Best marijuana strains for DIY topicals
If you want to try making your own marijuana topicals, there are several varieties available that have proven effective for helping with pain
For inflammation, there are several recommendations, including some high in CBD.
In summary, marijuana topicals are a good alternative for patients needing relief from a variety of conditions involving the skin, muscles and joints. Speak with your Florida Medical Marijuana doctor to see if you might benefit from one of these options.