Medical Marijuana for Osteoporosis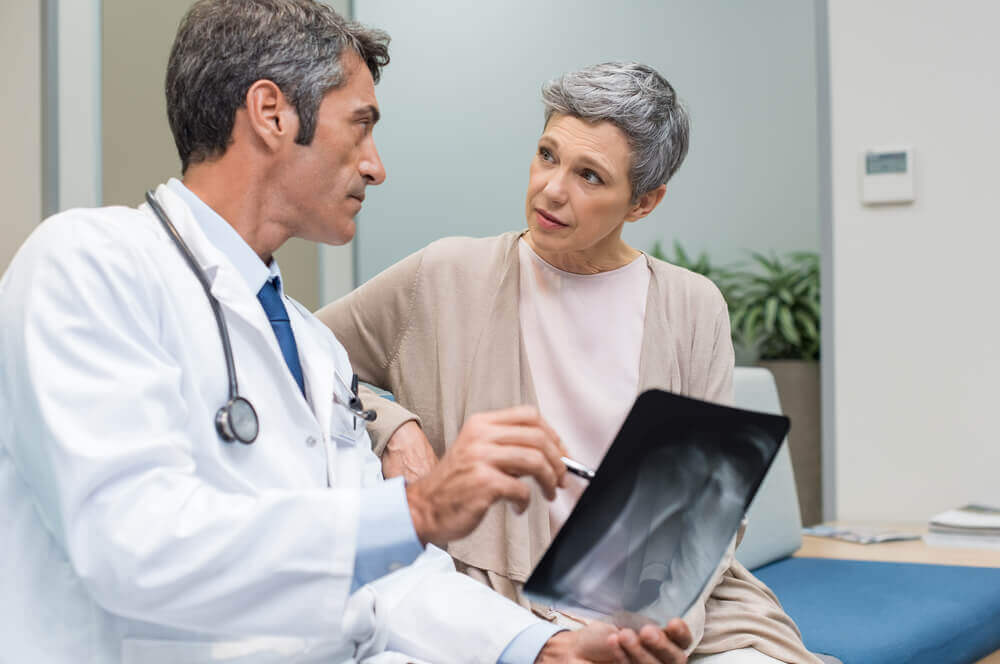 Osteoporosis is a medical condition in which the bones become brittle and fragile, often caused by hormonal changes, or a deficiency in calcium or vitamin D. People with osteoporosis are easily susceptible to bone breaks and fractures, especially in the spine, hip, and wrist. These breaks or fractures can happen even when very little stress is put on the bones, such as bending over, due to a decrease in bone density.
According to a 2017 study from the European Journal of Rheumatology, it is estimated that more than 200 million people suffer from osteoporosis, and 1 in 3 women over the age of 50 years and 1 in 5 men will experience osteoporotic fractures in their lifetime, [1].
Can Medical Marijuana Treat Osteoporosis?
In the human body, old bones break down and new bones are formed on a continuous basis. However, for people suffering from osteoporosis, bones break down faster than new bones are formed. Osteoporosis can lead to significant functional impairment, prolonged immobilization, and restrictions that can hinder a person's quality of life. But the good news is that, according to research, the use of medical marijuana may be beneficial in treating some of the symptoms associated with osteoporosis, and may even help prevent the development of this disease.
A study from January 2022 concluded that cannabis-based therapies have the potential to alleviate the development of osteoarthritis (OA), prevent osteoporosis (OP), reduce cancer-induced osteolytic destruction, and improve fracture healing, highlighting the therapeutic potential of CBS for human bone diseases [2]. This is all possible thanks to the body's endocannabinoid system. The ECS (endocannabinoid system) plays a role in maintaining bone strength and combating bone diseases and holds promise as a novel drug for bone disease treatment [2]. There is evidence to suggest that cannabinoid receptor CB2 can stimulate and repair the mineral density of bones by inhibiting bone resorption. CB2 is activated by cannabinoids found in cannabis, especially THC. Put simply, cannabinoids work on receptors in the human endocannabinoid system to combat osteoporosis [3].
While osteoporosis itself isn't painful, the condition causes fractures, breaks, and other painful problems, such as back pain, that can last for months. Not only can medical marijuana help with treating and preventing osteoporosis, but it can also ease pain associated with the disease.
What Cannabis Strains Are Best For Osteoporosis?
The top cannabis strains for combating pain associated with osteoporosis [4]:
Blackberry Platinum (Indica)
Alien Stardawg (Sativa)
Lemonberry (Hybrid)
Sugar Shack (Hybrid)
Green Haze (Sativa)
Grand Master Kush (Indica)
The top cannabis strains for combating inflammation associated with osteoporosis [4]:
Kraken (Indica)
Crystal Coma (Sativa)
Citrix (Hybrid)
Dark Star (Indica)
Orange Dream (Hybrid)
Pandora's Box (Sativa)
Do I Qualify For Medical Marijuana?
If you suffer from osteoporosis and are looking for natural relief through medical marijuana, we're here to help! Start the process of obtaining your medical marijuana card today by scheduling a risk-free appointment with one of our licensed medical marijuana doctors. If you have any questions or concerns, please don't hesitate to contact us. Our team of compassionate, renowned physicians, Medical Assistants, and Patient Care Coordinators are happy to help you every step of the way. Don't wait – book now!
Get Over-The Counter Relief With Doc-CBD!
Recent studies have shown that the use of CBD oils can help alleviate symptoms as well as slow the progression of osteoporosis. Be sure to check out our specially formulated creams and rollers that soothe and moisturize while helping relieve your pain. All with the natural benefits of CBD. Sign up for our monthly subscription service and receive a convenient monthly supply of your CBD products at a substantial discount off the regular price.
—-
Resources
[1] https://www.ncbi.nlm.nih.gov/pmc/articles/PMC5335887/#:~:text=Currently%2C%20it%20has%20been%20estimated,osteoporotic%20fractures%20in%20their%20lifetime.
[2] https://www.frontiersin.org/articles/10.3389/fphar.2021.793750/full
[3] https://www.tandfonline.com/doi/full/10.1080/07853890903121025
[4] https://www.marijuanadoctors.com/conditions/osteoporosis/