Strain Feature: All About Blue Dream Medical Marijuana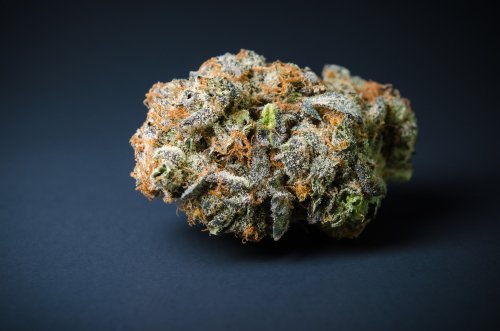 Blue Dream:
Blue Dream Medical Marijuana is a common sativa-dominant hybrid that originated in Northern California by crossing the indica strain Blueberry with the sativa Haze. It balances full-body relaxation with light cerebral stimulation. Both new and veteran users enjoy the effects of Blue Dream, which eases users gently into a relaxed and calm euphoria.
This strain is the single-most searched cannabis strain on the internet. It currently has over 12,000 reviews on Leafly, and most of them are "exceptional" ratings. Blue Dream delivers quick symptom relief without heavy sedative effects making it a popular daytime medicine for patients treating pain, depression, nausea, and other ailments requiring a high THC strain.
Lineage
Its history is a bit of a mystery, but it is believed that Blue Dream first appeared in the Santa Cruz area and has made quite a name for itself in the medical marijuana market. In recent years, DJ Short, a veteran breeder since the early 70's, revamped the strain calling it Azure Haze by intertwining a Silver Haze mother and a Blueberry from his collection.
Potency
Blue Dream's THC Potency is typically around 17-24%.
Looks
Weirdly enough, Blue Dream flower does not resemble anything blue. Appearance-wise it is a rich-green, sometimes sagey-colored flower, with yellow and orange pistils. If grown correctly it will produce frosty, trichome covered buds.
Smell
If it is adequately cured, your nose is hit with a sweet, floral and fruity aroma, particularly berry.When ignited, it gives off a smell similar to greasy grapes and lavender.
Flavor
Users can expect similar notes to the flower's aroma when tasting it. An additional underlying sweetness leaves taste buds happy. During the inhale, you might taste herbal flavors that are earthy, woodsy, and piney.
Terpene Profile
Typically myrcene is Blue Dream's most common terpene. This terpene is also found in hops, bay leaves and thyme. It is said to give off feelings of relaxation and sedation, and potentially responsible for the strain's characteristic calm.
Pinene, the most common terpene in the natural world, present in rosemary, basil and pine is another primary terpene found in Blue Dream. It is being studied for its potential to relieve both pain and anxiety, and is believed to combat the short-term memory loss associated with THC.
A typical Blue Dream strain also contains significant amounts of caryophyllene, a spicy terpene found in black pepper. Caryophyllene is a known antioxidant and anti-inflammatory, and also believed to provide relief from pain and anxiety.
Effects
Patients who have tried Blue Dream have reported that it has both positive and negative effects:
POSITIVE EFFECTS
Energizing.

Ability to focus.

Happiness.

Euphoria.

Creativity.

Uplifting.

Relaxing
NEGATIVE EFFECTS
Dry eyes.

Cottonmouth

Paranoia.

Dizziness

Increased anxiety.
Medical Uses
Blue Dream's terpene profile and overall cannabinoid profile produce relief for various symptoms, with the majority being psychological disorders. It is a powerful, high-THC cannabis strain great for relieving chronic stress, depression, anxiety, and certain types of pain. As a general rule, hybrids tend to offer "the best of both worlds," especially high-quality hybrid strains like Blue Dream. If you're concerned about getting "couch-locked," Blue Dream's heavy sativa concentration could be the ideal choice for you to enjoy relief without becoming a couch potato.
The high amounts of Myrcene coupled with THC helps open the blood-brain barrier, making it easier for users to feel the strain's effects. It also works well as an anti-inflammatory.Blue Dream gives users a full-body high thanks to its Blueberry Indica parent. However, the Haze balances out the strain with an invigorating, cerebral high that keeps you feeling energized despite the strain's calming effects.
How To Find It
Qualified patients in Florida searching for relief with help from the strain Blue Dream can find it in variousMedical Marijuana Treatment Centers (MMTC). The following MMTC's offer Blue Dream products:
Curaleaf

: Blue Dream Whole Flower

Fluent

: Baldor Black Tincture, Baldor Sublingual Drops, Baldor Vaporizer Cartridge, Baldor Black Concentrate Vaporizer Cartridge, Baldor Flower, and Baldor PreRolls.

Liberty Health Sciences

: Blue Dream Pre Rolls, Blue Dream Flower, Blue Dream Vaporizer Cartridge.
Trulieve

: Blue Dream TruFlower, Blue Dream TruPod, Blue Dream
If after reading this, you believe Blue Dream could be an effective way to manage some of your debilitating health conditions, book an appointment with one of our compassionate Florida Medical Marijuana Physicians. They will be able to access your medical history to see if Medical Marijuana could be right for you and your symptoms.
[1]https://fldispensaries.app/strain-types/hybrid/sativa-dominant/blue-dream/?uana=1&paged=2
[2]https://www.leafly.com/strains/blue-dream
[3] https://wayofleaf.com/cannabis/strains/blue-dream-strain
[4]https://kindmedsaz.com/blog/what-is-blue-dream-everything-you-need-to-know-about-blue-dream/
[5] https://www.leafly.com/news/canada/leafly-bud-club-episode-1-blue-dream
[6]https://www.leafly.com/news/strains-products/strain-highlight-blue-dream-leaflys-celebrity-strain
[7] https://www.leafly.com/news/growing/how-to-grow-blue-dream-marijuana