Strain Feature: All About ChemDawg Medical Marijuana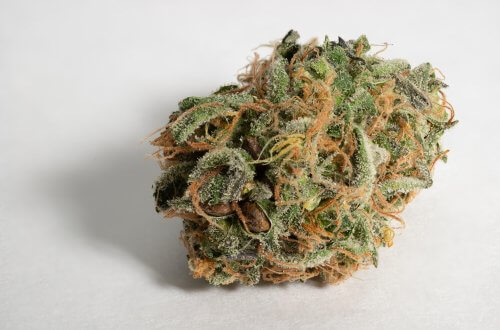 ChemDawg Medical Marijuana
Recognized across the world, Chemdawg Medical Marijuana is a strain that goes down in the cannabis history books. Packed with flavor, potency, and culture – it has something for everyone.
Lineage
This legendary strain, thought to be a cross between Thai and Nepalese sativa landrace strains, has a pretty uncertain genetic history. Rumor has it that in June 1991, during a Grateful Dead concert in Deer Creek, Indiana, the now well known cannabis grower Chem Dog met growers P-Bud and Joe Brand and purchased an ounce of P-Buds signature strain Dogbud. He enjoyed this strain so much, he asked Joe to mail him more and ended up getting thirteen seeds in his package.
Once he got home from the tour, he planted the first four seeds. One of those was a male plant, but the other three were flourishing females. He named these strains "ChemDog" (which is now known as Chem 91), "ChemDog A" (Chem Sis) and "ChemDog B." These strains have been used to breed many popular genetics, including OG Kush and Sour Diesel.
Potency
ChemDawg's THC Potency is typically around 18%-26% THC.
Looks
Chemdawg has medium-sized flowers that are long and tapered rather than small and popcorn-like. Its flowers have loose and wispy green leaves. that are covered in sticky white trichomes, making the buds have a silver-white appearance.. The flowers are covered with red to orange pistils and can be difficult to break up by hand because of how sticky they are.
Smell
ChemDawg gives off a smell that is similar to diesel fuel. The secondary notes are earthy, piney, rubbery, and musky.
Flavor
As long as it has been properly cured, ChemDawg has smooth smoke that tastes a bit sour when inhaled. When exhaled, it tastes like its signature diesel smell with hints of floral and citrus flavors.
Terpene Profile
Lab testing has shown that ChemDawg has high amounts of Caryophyllene, Camphene, d-Limonene, Terpinolene, L-alpha-Pinene, Linalool, alpha-Terpineol, Myrcene, and L-beta-Pinene.
Effects
The effects of Chemdawg are a big part of the reason for its well-known reputation. The high from Chemdawg hits fast, sometimes even before users have the chance to finish appreciating its diesel aroma. With effects that can last for hours, one can quickly complete to-do lists with a smile on their face. It is a strain that is ideal for socializing because it makes users become more chatty. Other effects given from the ChemDawg strain include
POSITIVE EFFECTS
Euphoric.

Happy.

Relaxing.

Creative.

Uplifting.

Calming.
NEGATIVE EFFECTS
Dry eyes.

Dry mouth.

Paranoia.

Dizziness

Increased anxiety.

Headaches.
Medical Uses
Chemdawg gives off a nice cerebral high that has made it valuable in managing symptoms associated with anxiety, stress, and PTSD. Some patients report relief from both chronic pain and migraines as well. Beware though, because due to its potency and mental focus, it also has the potential to trigger manic, recursive thinking that can lead to paranoia.
Chemdawg is recommended for pain management, and has been widely used to treat back pains, nerve damage, and muscle spasms. It causes deep physical relaxation, and calms the mind, making the pain much easier to manage.
Insomnia is also easily managed with the use of Chemdawg, because it can help release melatonin and ease users into a night of deep sleep. Cancer patients undergoing chemical treatments can also expect relief from the use of Chemdawg because it can be used to stimulate a healthy appetite, which can help radiation and chemotherapy patients to be able to eat normally again.
How To Find It
Qualified patients in Florida searching for relief with help from the strain ChemDawg can find it in a few different Medical Marijuana Treatment Centers (MMTC). The following MMTC's offer ChemDawg products:
Columbia Care

: ChemDawg Flower, ChemDawg Pre-Rolls, ChemDawg Shatter.
Liberty Health Sciences:

ChemDawg Flower, ChemDawg Vape Cartridges, Oral Solution, Indica Capsules.
MUV

: ChemDawg All-In-One Disposable Vape, ChemDawg Shatter.

OnePlant

: ChemD Flower, ChemD Rosin Vape Cartridges.

Trulieve

: Hybrid Capsules, Hybrid Oral Syringe, Chemdawg OPen Vape Cartridge, ChemDawg TruClear, ChemDawg Vape Cartridge.
[1] https://fldispensaries.app/strain-types/hybrid/indica-dominant/chemdawg/?uana=1&paged=2
[2] https://hightimes.com/grow/25-years-of-chem-dog/
[3] https://www.hytiva.com/strains/sativa/chemdawg
[4] https://wayofleaf.com/cannabis/strains/chemdawg-marijuana-strain-review
[5] https://www.wikileaf.com/strain/chemdawg/