Strain Feature: Pineapple Express Medical Marijuana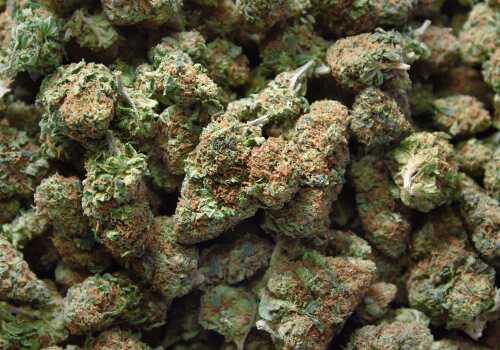 Pineapple Express
Due to Seth Rogans infamous stoner-movie Pineapple Express Medical Marijuana, this marijuana cultivar gained popularity throughout the world in 2008. While this strain does not necessarily live up to the hype the movie portrays, it still manages to offer a mild and nice body-numbing buzz, which is something many Florida Medical Marijuana patients are searching for.
This strain is not too hard to grow, flourishing in both indoor and outdoor facilities. The Pineapple Express strain flowers in about seven to nine weeks and can yield up to 19 ounces per meter.
If you find yourself searching for a little motivation to get up and get moving, this is a great strain to choose. It is a long-lasting, energetic strain that works perfectly with a busy schedule or creative projects. If you are the type who likes to just smoke at home, this is a great dinner and movie pairing.
Lineage
Pineapple express is a sativa-dominant hybrid strain, blending together the strains Hawaiian and Trainwreck.
Potency
Pineapple Express's THC Potency typically ranges between 17-27%.
Looks
The Pineapple Express strain grows tall and has a thick center of orange pistils and resinous trichomes. The leaves of this strain are deep green and protrude from the sticky resinous center. The flowers are usually covered in trichomes, with a sage-like green shade with occasional hazy yellow colors separated by the amber-orange hairs of the pistils.
Smell
The plant has a very strong fragrance which smells of orange, fresh apple, citrus fruit, and of course, pineapple.
Flavor
Pineapple Express combines the potent and flavorful notes of its parent strains Trainwreck and Hawaiian. The taste is similar to the smell of fresh apples and mangos, with a taste of pineapple, cedar, and pine.
Terpene Profile
While each harvest of Pineapple Express is going to produce different amounts of terpenes, the most common ones found in this strain are:
Linalool
Myrcene
Pinene
Limonene
Caryophyllene
The high amounts of myrcene terpene gives the aromas of tropical fruit, while caryophyllene is responsible for the woodsy scent. Linalool is known for its sweet aroma, and pinene offers an earthy pine tree flavor. Combined these result in a sweet, tropical, and piney flavor that many users have learned to love.
Effects
Patients who have tried Pineapple Express have reported that it has both positive and negative effects:
POSITIVE EFFECTS
Energizing.
Happiness.
Euphoria.
Creativity.
Uplifting.
Relaxing
NEGATIVE EFFECTS
Dry mouth.
Dry Eyes.
Paranoia.
Dizziness
Increased anxiety.
Medical Uses
The condition that Pineapple Express seems to help the most is clinical depression. Because of its uplifting and energizing effects, those who are suffering from a mental illness, especially one as debilitating and fatigue-inducing as depression, benefit significantly. It has a way of getting users to be motivated again and brings on a mood that encourages them to get things done.
In addition to depression, users with PTSD, stress, and anxiety can also find relief with Pineapple Express products. This strain is a powerful hybrid that eases the mind and allows for users to be calmly present in the moment. Patients suffering from appetite issues, nausea, and pain can also benefit from using the Pineapple Express strain.
How To Find It
Qualified patients in Florida searching for relief with help from the strain Pineapple Express can find it in various Medical Marijuana Treatment Centers (MMTC). The following MMTC's offer Pineapple Express products:
Columbia Care: Pineapple Express Whole Flower and Pre Rolls, Pineapple Express Shatter, Pineapple Express Kief Pucks.
Trulieve: Pineapple Express TruPod, Pineapple Express 510 Thread Vape Cartridge
If after reading this, you believe Pineapple Express could be an effective way to manage some of your debilitating health conditions, book an appointment with one of our compassionate Florida Medical Marijuana Physicians. They will be able to access your medical history to see if Medical Marijuana could be right for you and your symptoms and help you find a regimen that brings you the relief you deserve.
[1] https://weedmaps.com/strains/pineapple-express
[2] https://www.leafly.com/strains/pineapple-expres
[3] https://www.wikileaf.com/strain/pineapple-express/
[4] https://cannasos.com/strains/hybrid/pineapple-express
[5] https://wayofleaf.com/cannabis/strains/pineapple-express-marijuana-strain
[6]https://www.true-blue.co/blogs/news/in-depth-cannabis-strain-profile-pineapple-express#:~:text=Linalool%20(0%20%2D%200.07%25),Caryophyllene%20(0%20%2D%200.3%25)