Strain Feature: Velvet Glove Florida Medical Marijuana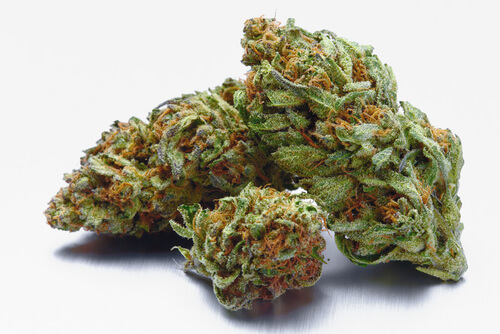 Velvet Glove is an indica-dominant strain available at select Medical Marijuana Treatment Centers (MMTCs) in Florida. Qualified patients can find this strain in a variety of products from flower to concentrates and vape pens.
If you are a Florida citizen and are interested in seeing if a Medical Marijuana Card is right for you, this survey will tell you if you are eligible per state guidelines. Over 500,000 patients throughout the state are finding relief with this alternative method and if you are suffering it could help you too.
With so many options available in stores and the cost of product, it is important to have a grasp on what effects a strain could produce before trying it out. Velvet Glove is a favorite among Florida Medical Marijuana patients and provides them with a nice and relaxed state of being while washing away a plethora of debilitating health conditions.
Lineage
Velvet Glove was created by Swamp Boy Seeds by crossbreeding the cultivars GMO and Nookies. These two strains are known for their relaxing and pain relieving effects.
Potency
Velvet Glove THC potency ranges from 17% THC to 29% THC depending on the environment it is grown in.
Looks
The appearance of Velvet Glove is mesmerizing. The buds are
Smell
The nose on Velvet Glove is usually very strong, as long as it was cured correctly. It smells like sweet gas that has a few sour undertones to it.
Flavor
The flavor of Velvet Glove reflects the terpene profile quite well. It has flavors of
Effects
Each individual will experience unique effects to marijuana because of their endocannabinoid system. Depending on the user, Velvet Glove can give off both positive and negative effects. The following can be expected when trying Velvet Glove:
POSITIVE EFFECTS
Relaxing.
Creative.
Pain Relief.
Calming.
Uplifted
Giggly
NEGATIVE EFFECTS
Dry eyes.
Dry mouth.
Paranoia.
Sedating.
Medical Uses
Marijuana is composed of hundreds of chemicals, the main ones being cannabinoids, terpenes, and flavonoids. Each of these components contribute to the medical benefits produced by a strain.
Velvet Glove's average cannabinoid and terpene percentages allow this strain to be good for anxiety, pain, insomnia, nausea, muscle trembles, and many other unmanageable symptoms you might experience.
How To Find It
If after reading this you believe Velvet Glove is a strain for you and if you are a qualified patient in Florida, you can find it in a few different Medical Marijuana Treatment Centers (MMTC). The following MMTC's offer Velvet Glove products:
Columbia Care: Velvet Glove Flower
MUV: Velvet Glove Flower, Velvet Glove Shatter, Velvet Glove Crumble, Velvet Glove Vapes.
RISE: Velvet Glove Flower, Velvet Glove &Shine Kief, Velvet Glove Vape Cartridge,
Getting a Florida Medical Marijuana Card
To legally purchase Velvet Glove products in Florida, you must be approved for a Medical Marijuana Card. By law, the following requirements must be met in order to be approved by the state's Office of Medical Marijuana Use:
A Qualified Patient Must:
Be a permanent or seasonal Florida resident
Be diagnosed with a qualifying medical condition by a qualified physician
Be entered into the Medical Marijuana Use Registry
Obtain a Medical Marijuana Use Registry Identification Card
Qualifying Medical Conditions:
Cancer
Epilepsy
Glaucoma
HIV/AIDS
Post-traumatic stress disorder (PTSD)
Amyotrophic lateral sclerosis (ALS)
Crohn's disease
Parkinson's disease
Multiple sclerosis (MS)
Medical conditions of the same kind or class as or comparable to the others listed.
A terminal condition diagnosed by a physician other than the qualified physician issuing the physician certification.
Chronic nonmalignant pain caused by a qualifying medical condition or that originates from a qualifying medical condition and persists beyond the usual course of that qualifying medical condition.
If you are still unsure if you qualify for your Florida medical marijuana card, this survey will tell you if you could be eligible. To take the next step, book a risk-free appointment with a qualified Florida Medical Marijuana Physician.