Strain Feature: Wedding Cake (Florida Medical Marijuana)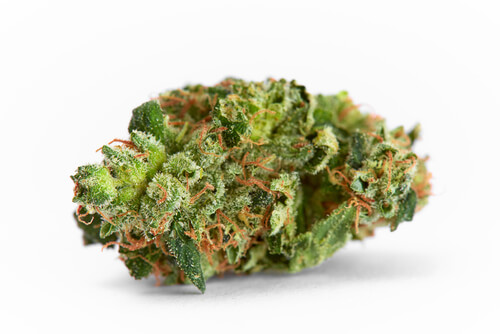 With more and more people becoming Florida Medical Marijuana patients each day, it is becoming a common occurrence to hear peoples opinions on different products to try. In just four years, the registry of patients who use medical weed in Florida has surpassed a half million residents. To see if you could be eligible for your Florida Medical Marijuana card, take this survey.
If you are curious about medical marijuana our team of Qualified Medical Marijauna Physicians in Florida are here to help. It can be overwhelming trying to navigate the different routes of administrations by itself, but when you factor in all of the strain options available it gets even worse.
How To Find It
If you are interested in trying the strain Wedding Cake and you are a qualified medical marijuana patient in Florida, you can find it in a few different Medical Marijuana Treatment Centers (MMTCs). The following MMTC's offer Wedding Cake products:
Lineage
Wedding Cake is a potent indica-dominant hybrid strain made by crossing Triangle Kush with Animal Mints.
Potency
Cannabis testing labs have found flowers of this strain to have between 16 and 25% THC.
Looks
In the right environment, Wedding Cake produces very large, colorful flowers. The big chunky buds are a typical indica bud structure – dense and stocky. The leaves are an earthy green that are threaded through with orange hairs, also known as pistils. A large concentration of trichomes gives this strain a sticky and resinous texture.
Smell
The smell of the cannabis flowers have a lot to do with the final curing process before it is packaged. When properly cured, Wedding Cake has a skunky smell with a hit of citrus. When you break it open it sort of smells of spicy sandalwood.
Flavor
This strain offers a rich, tangy flavor with undertones of earth and pepper.. It tastes sweet and rich on the exhale, with a super subtle creamy feel that some might compare to the taste of cake.me might compare to cake.
Terpene Profile
The terpenes present in Wedding Cake are what causes both its aroma and some of its strain-specific effects. The main terpenes found in Wedding Cake are:
Beta-Caryophyllene: Caryophyllene gives off a spicy peppery scent and can be found in black pepper, basil, rosemary, and oregano. This is the only terpene that binds to cannabinoid receptors making it a potent analgesic and anxiolytic agent. Recent research has also demonstrated its potential to treat alcohol withdrawal symptoms.
Beta-Myrcene: Myrcene is the most abundant terpene in most cannabis strains. It is popular for its anti-inflammatory effects and is also used as a sleep aid.
Humulene: As an appetite suppressant, humulene works alongside other chemicals in cannabis to promote weight loss, and decreases inflammation. Humulene also inhibits tumor growth by producing reactive oxygen species, chemicals that help destroy cancer cells.
Effects
The effects of this strain set in relatively quickly. Users can expect it to take hold primarily in the head, finding their thoughts to be more intense. In the right setting, this strain can be accompanied by giddiness and euphoria, but in the wrong one can come along with anxiety and paranoia. Once the initial effects wear off, its indica leaning effects kick in, bringing on a more sedative and less fast-paced high.
Each individual will experience the effects from Wedding Cake uniquely due to their endocannabinoid system (ECS). In most cases, Wedding Cake induces
The following can be expected after using Wedding Cake products:
POSITIVE EFFECTS
Focused.
Motivated.
Calm.
Happiness.
Light euphoria.
NEGATIVE EFFECTS
Dry eyes.
Dehydration
Dry mouth.
Medical Uses
Wedding Cake can help medical marijuana patients relieve symptoms associated with pain, insomnia and appetite loss. It brings about feelings of perceptiveness that can aid those with mild to moderate depression, anxiety, and stress. Some users noted that it even helped them feel more "in the moment."
Since this strain leaves patients calm and levelheaded, it can also aid those with attention deficit disorders to focus on their tasks. The gradual waves of physical relaxation that wedding cake brings on can soothe both temporary and chronic pains and can even bring about relief for insomnia in high enough doses. Lastly, it can be an appetite stimulant for those who have lost their desire to eat from diseases, medications, or chemotherapy treatments.
Getting a Florida Medical Marijuana Card
In order to be able to legally purchase and use Wedding Cake products in Florida, you must first have qualified for a Medical Marijuana Card. Per state guidelines, the following requirements must be met in order to be approved by Florida's Office of Medical Marijuana Use:
A Qualified Patient Must:
Be a permanent or seasonal Florida resident
Be diagnosed with a qualifying medical condition by a qualified physician
Be entered into the Medical Marijuana Use Registry
Obtain a Medical Marijuana Use Registry Identification Card
Qualifying Medical Conditions:
Cancer
Epilepsy
Glaucoma
HIV/AIDS
Post-traumatic stress disorder (PTSD)
Amyotrophic lateral sclerosis (ALS)
Crohn's disease
Parkinson's disease
Multiple sclerosis (MS)
A terminal condition diagnosed by a physician other than the qualified physician issuing the physician certification.
Chronic nonmalignant pain caused by a qualifying medical condition or that originates from a qualifying medical condition and persists beyond the usual course of that qualifying medical condition.
Medical conditions of the same kind or class as or comparable to the others listed.
The last two bullets under Qualifying Conditions leave room for a qualified physician to determine whether or not you are a good candidate for medical marijauna in Florida. If you are still unsure if you qualify for your Florida medical marijuana card, this survey will tell you if you could be eligible.
In order to begin your medical cannabis journey, book a risk-free appointment with a qualified Florida Medical Marijuana Physician. During this visit you are able to go over any further questions you may have about the process, marijuana, and how to effectively use it as medicine. If it is determined at the conclusion of your appointment that you do not qualify per state guidelines, you will be issued a full refund.
[1] https://www.wikileaf.com/strain/wedding-cake/