The Veterans Guide to Medical Cannabis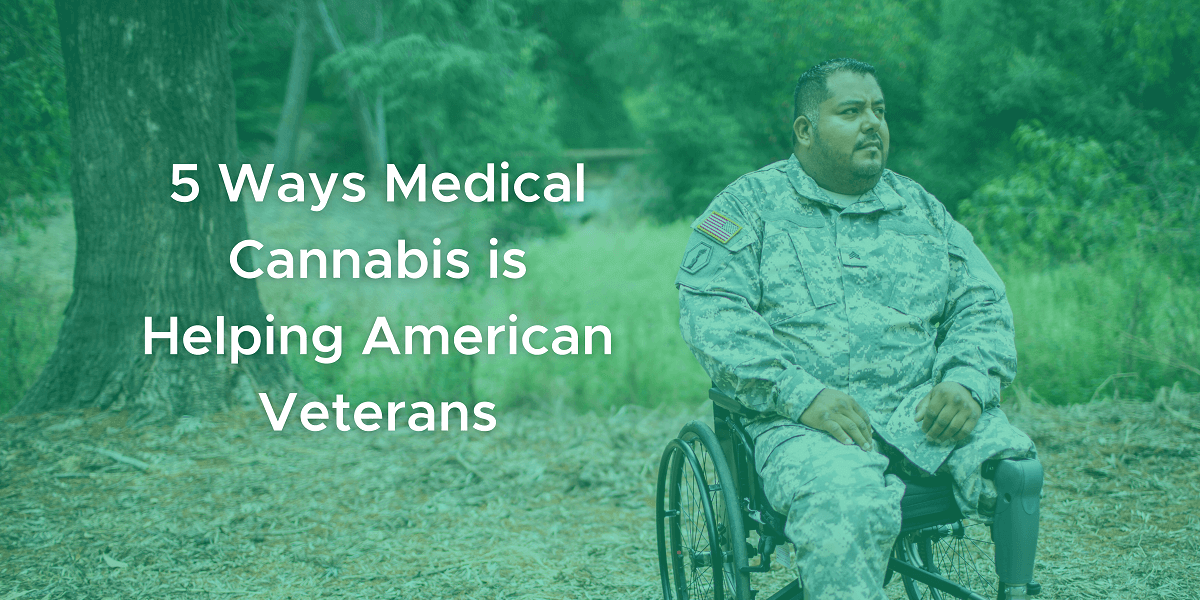 Medical cannabis is a new and legal option for symptom management if you live in a state that has a medical cannabis program. But if you are a Veteran, you may be wondering if getting a medical card is worth it. Can it really help with your symptoms?
Veterans Affairs has made it easier for American Veterans to get their medical card in the past two years. And try cannabis as part of a doctor-supervised treatment plan to improve symptom management and provide relief.
DocMJ is Florida's largest medical cannabis health provider, with twenty-seven (27) clinic locations across the state. We continue to expand our services to patients who are eligible to get a medical cannabis card. And we now provide services to patients in Texas and Ohio.
Every week our team answers questions from Veterans like you who are wondering about medical cannabis. We are honored and happy to answer some of the frequently asked questions Veterans have about medical marijuana.
Why Do Some Veterans Get a Medical Cannabis Card?
Veterans can endure symptoms relating to injuries they sustained during service. Some of those symptoms are chronic and present a burden to their quality of life. And even though there are prescription medications for every condition, from chronic pain to mental health disorders, they are effective for everyone.
One of the concerns about chronic diseases or health conditions is how to manage symptoms that won't resolve over time. And certain types of medications, including NSAIDs and opioids, can have side effects and long-term health risks. That includes concerns over developing addictions to prescription remedies.
Some Veterans have been helped by medical cannabis, where they could not get relief by other methods. And for a Veteran with chronic diseases, disability, anxiety, depression, or intractable (chronic) pain, it can help to restore their quality of life.
How Do Veterans Get a Medical Card?
While state laws and requirements vary, getting a medical card is not difficult as long as you have been formally diagnosed with one (or more than one) qualifying health condition (QHC).
A health check is required in every state where medical cannabis is legalized. It is an appointment with a doctor to discuss your current diagnosis and the severity of the symptoms you experience. It is also an opportunity for the physician to discuss your health history and current medications to make sure that medical cannabis is a safe choice for you.
After the health check, the practitioner will recommend you for medical cannabis. If you have an underlying health condition (or are taking medications) that would make cannabis unsafe, you will not receive a recommendation. The safety of the patient is our top priority.
If you do receive approval or a recommendation for medical cannabis, you are provided with information to complete the process. Every patient must join the state medical cannabis registry. You'll get a Patient ID number and a medical card that will allow you to purchase medical cannabis products according to the treatment plan created by your marijuana doctor.
Renewal of your medical card is required after a certain period of time. You will be provided with the information about when to renew your medical card, to remain on the patient registry. That allows you to continue to use medical cannabis legally within your state.
What Conditions Do Veterans Use Medical Cannabis For?
Every patient is different when it comes to symptom management needs. And often, Veterans may be concerned that they do not meet the criteria for medical card approval. And join their state medical cannabis program.
Because of military service's physical and emotional impact, many Veterans have more than one qualifying health condition. But there are five health concerns and diagnoses that are prevalent among Veterans, which could be helped by medical cannabis.
1. Symptoms of Post-Traumatic Stress Disorder (PTSD)
Post-Traumatic Stress Disorder is one of the most misunderstood mental health conditions. But in the past twenty years, there have been improvements in awareness and how PTSD is diagnosed and treated in the United States. A Veteran may be diagnosed with PTSD while in service. But many Veterans may struggle with post-traumatic stress disorder symptoms without being diagnosed.
Veterans Affairs maintains statistics on the diagnoses of post-traumatic stress disorder by conflict deployment. Here are some figures about Veterans who were diagnosed with PTSD after serving in conflicts:
Operations Iraqi Freedom (OIF) and Enduring Freedom (OEF) 11-20 out of every 100 Veterans were diagnosed with PTSD annually.
Gulf War (Desert Storm), approximately 12 out of every 100 Veterans were diagnosed with post-traumatic stress disorder.
About 15 out of every 100 veterans during the Vietnam War were diagnosed with PTSD, according to data collected before 1990 in the National Vietnam Veterans Readjustment Study (NVVRS).
Not all instances are related to combat injuries, however. Some Veterans are diagnosed with post-traumatic stress disorder as a result of a sexual assault or harassment while serving in the military. Approximately 23% of female servicewomen report an assault, and 55% of women (as well as 38% of men) have experienced sexual harassment in the military.
Instances of life or death situations, witnessing the death of a friend or comrade, or experiencing personal injuries or threats can result in post-traumatic stress disorder. A condition that does not "disappear" over time without medical treatment.
2. Chronic Pain
It is no secret that military service requires a great physical demand. It is not uncommon for former servicemen and servicewomen to develop chronic pain. The VA estimates that over 50% of Veterans are receiving care for chronic pain symptoms.
What causes chronic pain? It can be attributed to an injury, but in some cases, patients can experience chronic pain without a cause. Medical researchers understand how to diagnose neurological pain, for instance, but isolating the cause of it is difficult. Which makes treating the condition difficult, and patients can endure symptoms for a long time.
The Veterans Action League (VAL) 2.0 collects research ideas for improving American veterans' chronic pain management and treatment services. There are VAL locations in Georgia, Illinois, Florida, and Virginia.
Access to medical cannabis as a treatment option (that would not impede VA health services) was forwarded in 2021. It is called "The Veterans Cannabis Use for Safe Healing Act." In the interim, while legislation is being written to protect veterans' rights to use medical cannabis, Veterans Affairs clarified the agency's stance on MMJ use.
3. Insomnia
If you are a Veteran and suffer from chronic insomnia, you are not alone. A recent study of 5,500 post-9/11 military men and women revealed that 57.2% had insomnia. By comparison, only 30% of the civilian population experiences long-term insomnia.
In addition to a higher-than-average rate of insomnia, Veterans in the study also suffered from multiple clinical disorders, including chronic pain, traumatic brain injury (TBI), and PTSD. And when Veterans have one or more of those conditions, there are even higher rates of insomnia, averaging around 84%.
The study reported in the SLEEP Journal also indicated that Veterans may experience long-term insomnia. It begins after they have left active duty, and can persist for ten years or longer before they seek treatment. An important consideration as sleep deprivation substantially increases the risk of developing life-threatening chronic diseases.
4. Cancer
Military men and women can be exposed to carcinogens on the battlefield and during maneuvers and daily living. That is a classification of chemicals known to increase the risk of developing cancer.
Some of the most common types of cancer diagnosed among Veterans include:
Respiratory cancers (lung, larynx, and trachea)
Multiple myeloma
Prostate cancer
Soft tissue sarcoma
Bladder cancer
Chronic lymphocytic leukemia (CLL)
Amyloidosis
Hodgkin lymphoma (and non-Hodgkin lymphoma)
Veterans undergoing cancer treatment may experience chronic pain and other symptoms, including appetite loss, migraines, chronic fatigue, gastrointestinal or digestive problems, and more.
5. Anxiety, Depression and Adjustment Disorders
For some Veterans, another battle begins after they leave active service and return home. Integration back into civilian life can be very stressful and challenging. And some Veterans develop a condition called 'adjustment disorder".
Veterans Affairs (VA) now recognizes anxiety, adjustment disorder, and depression as clinical diagnoses as service-connected. Or changes in mental health that occur as a result of experiences while in military service. And treatment plans are available for veterans suffering from debilitating mental health conditions.
Does Medical Cannabis Use Impact Eligibility for VA Care?
One of the concerns veterans have when considering medical cannabis is whether doctor-supervised use will impact VA benefits. It is a legitimate concern, as Veterans Affairs is a federal agency, and cannabis remains a Schedule 1 controlled substance according to federal law.
But what about Veterans that live in states with medical cannabis programs? Like any other patient, they may choose to use medical marijuana for symptom management.
Veterans Affairs has a resource page that answers common questions that military Veterans have about medical cannabis. And it provides reassurance that VA benefits would not be taken away for doctor-supervised medical cannabis use.
However, there are some restrictions for Veterans who the federal government employs. Those Veterans are still subject to random drug testing, and the consequences of testing positive for THC as a federal employee are serious.
Federal government jobs and sectors are subject to Drug-Free Workplace laws. These sectors include (but are not limited to):
Federal Aviation Administration (FAA)
Federal Motor Carrier Safety Administration (FMCSA)
Federal Railroad Administration (FRA)
Federal Transit Administration (FTA)
National Highway Traffic Safety Administration (NHTSA)
Pipeline and Hazardous Materials Safety Administration (PHMSA)
U.S. Coast Guard
Medical and Legal Services
Financial and Accounting Services
Mechanics and Technicians
Analysts and Internet Technology Services
Security Services
Individuals who test positive for any controlled substance (THC) can be disqualified from rehiring for any federal department or agency. Retired Veterans the federal government does not employ are not subject to randomized drug testing.
Can a VA Doctor Recommend Veterans for Medical Cannabis?
Being a registered patient in your state medical cannabis program won't jeopardize your VA benefits. But that doesn't mean that a VA physician can help you get your medical card. In fact, it is illegal for them to do so.
This is often confusing to Veterans who receive VA medical care. VA doctors can not prescribe medication that is not approved by the U.S. Food and Drug Administration. And that means they cannot recommend a patient for medical marijuana. In addition, VA pharmacies cannot fill prescriptions for medical cannabis. The cost of medical cannabis is not covered either.
Veterans with medical care from the VA should disclose the use of medical cannabis, however. And some Veterans are concerned about sharing that information. However, since Veterans Affairs has publicly stated that benefits are not at risk, it is a good idea to share that information with your VA physician.
Rest assured that the only reason the VA would like to know about medical cannabis use is to watch for medications' contraindications (or conflicts). Or anything that would impact the patient's safety and the quality of the VA's care delivery.
Possession of cannabis (even if you have a state-issued medical card) is still a felony offense if you are in any federal building or facility. So leave your vape, bud, edibles, pre-roll, or tincture at home when you visit your VA physician to avoid problems.
Where Can You Find Veterans Support Programs?
Nationwide there are programs and organizations to help veterans cope with physical impairments or mental health concerns. DocMJ provides accessible mental health counseling services through DocMJ Cares. Veterans can schedule time with a compassionate therapist to discuss problems with anxiety, depression, PTSD, ADHD, and other conditions.
[insert doc cares banner]
What kind of services can you expect from a Veteran's support organization? Special online or in-person services, including employment counseling, housing assistance, personal health education, and outreach, are often provided at no charge. And the opportunity to meet with other Veterans and connect to the local community.
Some nationwide organizations you can explore online for Veteran support services include:
DocMJ connects Veterans with compassionate physicians in Florida, Texas, and Ohio. In Florida, we offer twenty-seven clinic locations with private consultation rooms to discuss medical cannabis with a physician. And to help you decide whether medical cannabis is the right choice for symptom management.
In Texas and Ohio, DocMJ provides telemedicine services for Veterans who want to get a medical card. Completing your health evaluation at home is a convenient way to start the process.
Our team at DocMJ provides assistance to help you take the next step after you receive your doctor's recommendation to complete your registration for a medical card. We are proud to offer our military men and women a discount to help them take the first step to evaluate whether medical cannabis may help with symptom management.
Aaron Bloom serves as the CEO, overseeing the mission and growth of DocMJ. Aaron's passion for improving patient's lives comes from his background in health care. For more than 20 years Aaron owned, operated, and represented traditional health care organizations. This experience created a passion for finding improved ways to relieve suffering. His goal as CEO is to work hard every day to bring relief to all patients who seek better health and wellness through the medicinal benefits of medical cannabis and evidence based alternative medicines.