Where Does the VA Stand on Medical Marijuana in Ohio?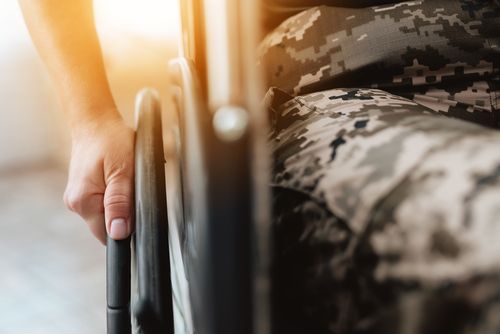 According to the 2017 census, there are over eighteen million United States veterans currently living [1]. The people who make up that number have served anytime between World War II and the Gulf War or later. Many of them also use the VA to access necessary healthcare, but what can and cannot be used is not always clear. Medical marijuana is a common request for many veterans who are not sure whether they can get it through the VA, private doctors, or at all.
Do you currently live in Ohio and have questions about medical marijuana or getting a medical marijuana card? Speak with our team today at 877 899-3626 about any questions you may have! You can also see if you pre-qualify for a medical marijuana card right now by completing our easy online eligibility survey.
What is the VA?
First, it might be helpful to get a clear picture of the VA and its function. The United States Department of Veterans Affairs (VA) provides healthcare services and other benefits to veterans across the country. Their other services include rehabilitation, education assistance, and certain loans.
While healthcare for veterans has been around for nearly as long as the country itself, dating back to pensions for soldiers during the Revolutionary War, the VA as a federal entity is relatively new. Prior to 1930, when President Hoover signed the VA as we know it today into existence, many veteran benefits were handled through Congress.
The VA and Medical Marijuana
According to the VA itself, while federally illegal, using medical marijuana will not mean denial of VA benefits. In fact, the VA encourages veterans to discuss marijuana with their healthcare provider. It is worth noting however, that marijuana use will be marked on the patient's medical record.
Despite this seeming acceptance, there are still restrictions in place for veterans looking to get a medical marijuana recommendation, in that VA clinicians are not allowed to give recommendations. This is because they may only prescribe FDA approved medications. They are also not allowed to process the paperwork that may be required for veterans to enter their state's medical marijuana program. Veterans are also not allowed to use medical marijuana on VA grounds, as federal law makes it illegal.
Is This Likely to Change?
There is currently plenty of pressure being applied to the VA to change their policies. Due to the sensitive nature of veteran benefits and the recent widespread acceptance of medical marijuana, many people are petitioning for both the government and the VA in particular to change their stance and legalize marijuana use.
Currently, because marijuana is a Schedule I drug, federal employees are not allowed to use it under any circumstance (including VA employees) and its use is not allowed on any federal land. This has spurred many people into action, including the American Legion and Veterans of Foreign Wars, two huge veterans' organizations which support research into the efficacy of marijuana as medicine. Lindsay Rodman, the EVP of the Iraq and Afghanistan Veterans of America, believes that "If there's a viable medical treatment available to civilians, it's not just inappropriate, it's patently unjust that veterans don't have access to it," [2].
There is also legislation underway that may change things. With some bills working to require the VA to research medical marijuana's effect on PTSD and chronic pain and others making it so veterans cannot legally be denied benefits due to state-legalized marijuana use.
Despite this advocacy for veteran's access to medical marijuana, there is still some difficulty both in the reality of obtaining a recommendation and how some veterans have been treated due to their marijuana use. Many veterans still view marijuana as a stigmatized entity, and either do not feel comfortable speaking with a physician about it or using it at all.
As it stands, it is clear that both sides support at least increasing research efforts into the benefits of medical marijuana and, though it may be slow moving, both physicians and lawmakers want what is best for our veterans.
How Can Marijuana Help Veterans?
It is a sad reality that many of our veterans suffer from one form of illness or another, be it physical or mental. Some of the most common troubles are related to anxiety and PTSD. In Ohio, PTSD is already a qualifying condition for a medical marijuana recommendation, and anxiety disorders are currently being considered as additions. The research regarding both conditions and marijuana is conflicting, but positive results have been found in many cases. For example, PTSD is an extremely complex condition, often with unknown origins, and is difficult to treat. Current research, however, has found that the endocannabinoid system may play a large role in mood regulation and memory [3], suggesting that the endocannabinoid system may be a good target when treating those with PTSD. Favorable outcomes have also been found in several case reports and observational studies [4].
Many veterans also have problems with chronic pain, another difficult to treat condition. Chronic pain is commonly treated with strong analgesics, including both over the counter drugs and opioids. This has led to many veterans becoming dependent on these drugs. Fortunately, many people with chronic pain have found relief with medical marijuana. One study found that eighty percent of users found medical marijuana to be extremely helpful in treating pain, with over eighty percent being able to reduce or end use of over the counter drugs or opioids [5].
In Conclusion
Currently, the reality of a veteran using medical marijuana is uncertain. While the VA states that a veteran will not be denied benefits due to marijuana use, it is still stigmatized, and many feel uncomfortable speaking about or using it. Many are fighting and advocating to change the federal laws regarding marijuana. Whether it be for outright legalization or increased research efforts, there is no doubt that marijuana is at the center of a lively debate. While it is unclear whether or when this could result in change, it is bringing the benefits of medical marijuana to the attention of many people, and information is always positive.
Cited Works
[1] https://factfinder.census.gov/faces/tableservices/jsf/pages/productview.xhtml?src=bkmk
[2] https://thehill.com/policy/healthcare/462672-va-under-pressure-to-ease-medical-marijuana-rules
[3] https://www.ncbi.nlm.nih.gov/pmc/articles/PMC3776936/
[4] https://www.ncbi.nlm.nih.gov/pmc/articles/PMC6007739/
[5] https://www.tandfonline.com/doi/full/10.1080/02791072.2019.1626953